Twitter Basics: How Businesses Use the Popular Social Media Platform
Posted by Sarah Wai on Oct 14, 2016 11:10:00 AM

Once, I was sitting in on a marketing class (that I had admittedly not signed up for), listening to a professor give a lecture on social media and the impact it has on society and the business world. About 40 minutes into the lecture, an older student raised his hand and said, "Everyone knows that social media is just for millennials. How can it possibly be useful for businesses?"
The professor, who was in his early 60s, replied, "Is it? Then why do I have ads popping up on my news feed targeted at old balding men like me?"
He proceeded to ask students what kind of ads popped up on their news feeds on different social media sites and if they thought those ads fit who they were as a consumer. Every single person said that most of the promoted posts or ads they saw, specifically on Twitter and Facebook, were completely applicable to them. He then asked everyone to raise their hand if they had ever clicked on one of these posts or ads. The majority of the class raised their hands.
What does this mean? Businesses that are meeting their buyer personas where they spend time online are getting noticed and getting clicks.
Understanding All This Twitter Business
If you are serious about taking your company's marketing to the next level, don't rule out Twitter. Next to Facebook, Twitter is one of the most effective communication platforms for marketing efforts.
Tony Hsieh, CEO of Zappos.com, said:
"We've found that Twitter has been a great way for us to connect on a more personal level with our employees and customers. We use it to help build our brand, not drive direct sales. It'd be like asking how does providing a telephone number for customer service translate into new business when they are mostly non-sales-related calls. In the long term, Twitter helps drive repeat customers and word of mouth, but we're not looking to it as a way of driving immediate sales."
Tweeting regularly and tactfully is a great way to generate leads, get feedback, stay up-to-date on what is trending, and promote your products or services.
Generating Leads and Self-promoting
Every tweet has the potential to be a call-to-action (CTA), so don't waste it. Here we have two excellent examples of tweets from two different companies that chose to promote their products to me via Twitter: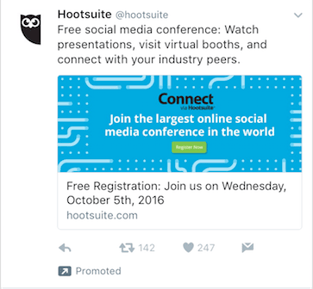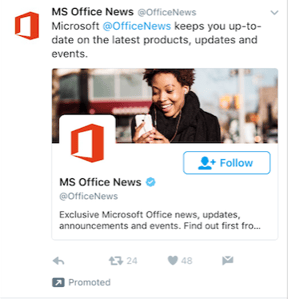 They have successfully placed themselves in my news feed and are calling my name. Both have applicable images and compelling copy to boot. Your company could do the same.
Getting Feedback
There are various ways you can get feedback on Twitter, and three of the most common ways are:
RT (retweets) with responses
Creating a hashtag for people to use when giving feedback via Tweet (EFL tweet)
Custom polls (Kyra Sivertson tweet)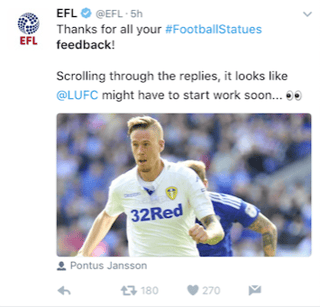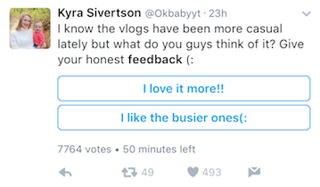 The success of these kinds of tweets depends on your industry and how compelling your tweet is. Make sure you understand your audience and what captures their interest.
Staying Up-to-Date on Trends
Hashtags that were popular a month ago, or maybe even a week ago, are not necessarily popular today. Things that sparked conversation in the past aren't going to necessarily work if your audience has moved on to other things. The great thing about Twitter is that you can easily figure out what is trending via "Moments" or searching keywords. Then you can adjust your strategy accordingly.
Keeping Your Personal Account Professional
Some CEOs choose to create their own Twitter profiles to complement their company Twitter. Our very own Corey Smith (@corey_smith) has his own Twitter account; as do other CEOs such as Tim Cook, Biz Stone, Jeff Weiner, and others. The key to this is to keep it classy and keep it business-related.
Twitter is an amazing social media platform that can be used by any company, CEO, marketer, or average Joe. The trick is to be strategic, compelling, and attractive.
Content, Email, and Social Media Marketing Specialist of Tribute Media. Bachelor of Science in Digital Communication Arts and Master in Business Administration. Holds HubSpot Certifications in Inbound Marketing, Social Media Marketing, Email Marketing, and Contextual Marketing.
Please Leave a Comment: