In today's business world, few terms or concepts are as pervasive—even sacred—as this one. (We thought about maybe putting a halo or a golden glow around those two words.)
You hear brands and branding discussed all the time. You hear it from all industries in the developed world. But what exactly do these words mean? What goes into a brand? More specifically, how does branding work on the web? Tribute Media has answers for these questions. More importantly, we can put this knowledge to work online.
WHAT'S YOUR BRAND?
Essentially, your brand is all about how people perceive you. A logo is an important aspect of brand identity, but branding has much more to it than that. Your brand also includes how others relate to your business through:
Images
Information
Experiences
Your brand has visual elements (logo, official colors, fonts) and it has written elements (slogan, tagline, brand voice). Your brand should tell a story and it should feel familiar to your customers. Think of the brands you know best. What do they have in common? Consistency and visibility, sure, but successful branding also has a clear focus, a target audience, and good communication.
When it comes to your brand identity online, there is so much more to think about than just your website. Your brand must shine—and be consistent—across many platforms and media.
Elements of a Brand
Though every brand has different elements and every company places different levels of importance on the various aspects, you can still consider these three main components for every brand identity.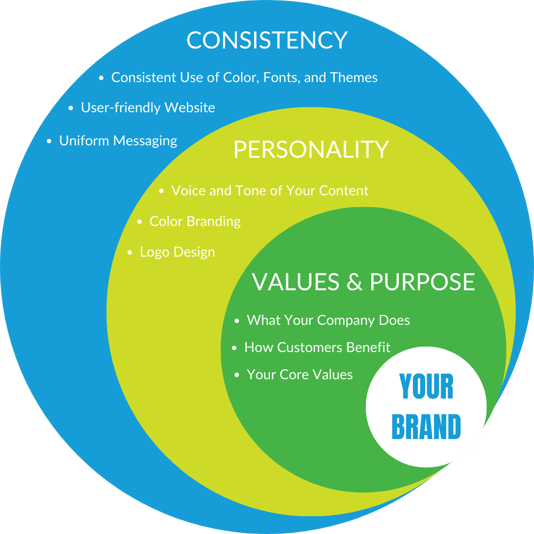 VALUES & PURPOSE
Your brand should be firmly rooted in your "Why"— meaning, why your company exists and what you bring to the table. Along with conveying the values of your brand, your website should quickly be able to answer questions like these:
What exactly does your company do?
Which products and services do you offer?
How will customers benefit from them?
PERSONALITY
In addition to what you do, your brand includes how you do it.
The impression that customers have of your business—innovative or traditional, classy or down-to-earth—is a major component of your brand. Factors such as these play a role in conveying your brand's personality:
The design of your logo
The tone of the content on your website and blog
The colors that appear on your site and in your ads
CONSISTENCY
Have you ever had friends who said one thing and did another all the time? If so, you probably didn't keep them as friends for long.
Who wants to keep shifty, unreliable people in their lives? More importantly, who wants to give their money to a business that behaves that way? If a company does not seem to know its own purpose or identity, it won't inspire trust in its prospects and customers. That's why consistency is crucial when it comes to building a brand. Among other things, this can mean:
Keeping your messaging uniform on all media, while still considering the audience
Using the same colors, fonts and themes on your website, social media and marketing collateral
Making sure that your website functions properly and is intuitive for your site visitors to use
WHERE'S YOUR BRAND?
The short answer to this question: EVERYWHERE.
Now here's the longer answer. Online, your brand is anywhere people engage with you or talk about you.
Obviously, your website is where many (if not most) customers or potential leads will interact with your brand. That's why having a well-designed, intuitive website is crucial. Beyond the design and usability of your site, you can think about how you're expressing your brand identity in some key areas:
Homepage: How it looks, what it says, and what it doesn't say
About Page: Your tone, what info you provide, and how personable/credible/knowledgeable you seem
Content: Blog posts, landing pages, downloadable content -- anything visitors find or are directed to
Across the Internet
In addition to your website, brand identity shows up in plenty of other places (whether you like it or not!), including:
Need Help? We Can Do That.
To preserve your brand, you need to pay close attention to your web presence. You need a comprehensive strategy for communicating and bolstering your company's vision online. This includes developing content, responding to feedback from customers, and more.
We can assist with your brand in any number of ways, including:
Designing your logo
Launching a rebrand
Coordinating a brand refresh
Adding to or updating existing brand standards
Building a strategy for consistency across all your web marketing
At Tribute Media, we help your brand look its best. We have the resources and insight to make your business vision resonate across the internet. To learn more about our approach, check out these areas of our website:
If you have questions for us about branding for the web, contact us.