There are a plethora of social media apps, so we'll keep it simple and cover the Top 3 social media platforms.
Facebook and Instagram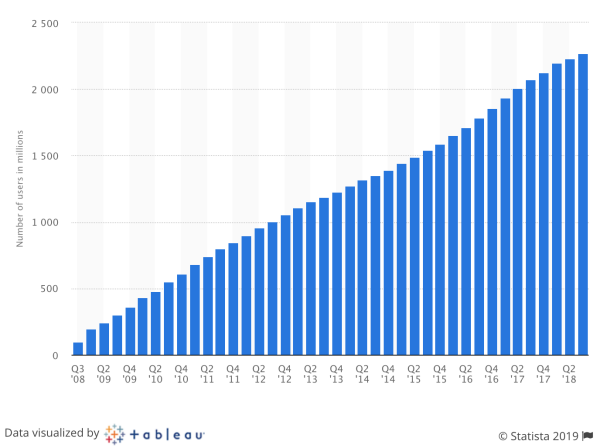 Although many other social media platforms claim that Facebook is declining in popularity, data says otherwise (as seen in this image). In late 2018, it was reported that Facebook had 2.27 billion ACTIVE users. Active users are defined as those who have logged into their account in the last 30 days. With that data, we'd say Facebook is doing just fine. That brings us to our point: your company needs to have a constant presence on Facebook. Not a once in a while presence; a daily presence.
According to HubSpot, there are more than 1.5 billion daily users on the social media platform. Because so many people are on it, so are most businesses in order to get their products in front of more users. The competition to get in front of users is high, which is why you can't have a passive approach. Read more about generating leads for your company on Facebook.
You may be wondering why we grouped Facebook and Instagram together. Truth be told, a vast majority of the users that are on Instagram are on Facebook. If you happen to follow users on both Instagram and Facebook, you've likely seen the same posts from them but on the separate platforms. That's because Instagram is connected to Facebook.
Now, Instagram is NOT Facebook; there are many significant differences. However, you do have the ability to combine your paid efforts because of the connection between these two platforms. The most common and easiest type of advertising for businesses to do on Facebook and Instagram come in the form of "Sponsored Posts" that are created by using that "Boost" option the social media platforms give you on your page and individual posts.
DIALING IN YOUR FACEBOOK STRATEGY
With the amount of data people willingly give Facebook, you can now dial into a more refined audience that is more likely to purchase from you. You can now target your ads by location, age, interest, industry, relationship status, or basically anything people put in their profiles. You have access to an already segmented audience. You can also segment based on lists you have of current or past customers to find leads that are similar to those customers. That's worth putting some dollars into.
There is so much that we could delve into with Facebook, so here are some simple things you can look into doing right now to get started in the right direction:
Twitter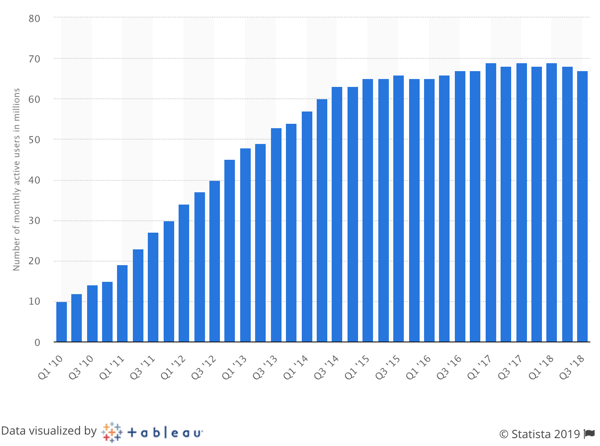 Twitter has already reached its peak, as far as experts can tell. However, there were still 336 million monthly active users as of the end of 2018 worldwide (67 million users in the United States).
Twitter is a great platform for those who wish to interact with their followers in real time. Many brands, celebrities, politicians, etc., use this platform. So if you own a company, do you need to be active on Twitter? In most cases, the answer is yes. But it can depend on your industry.
Consumers use Twitter to share what they know and learn. Twitter users are craving new concepts, opportunities, information, products/services, and people. If your business is not part of this market, you're leaving two enormous opportunities untouched: growing your business and improving it to adapt to the modern consumer market.
Once you've established yourself on Twitter, here are some additional resources that can help you on your journey:
DO YOU NEED MORE DIRECTION?