Of course, there's more to social media marketing than just creating accounts. Let's take a look at how to build your social strategy.
How do I create a social media marketing strategy?
The first step in any social media strategy is establishing your goals. Simply creating social media profiles and posting sporadically won't get you anywhere. You need a strategy and specific goals you're trying to accomplish with social media.
Common goals businesses have with social media marketing include:
Increasing awareness of your organization
Growing traffic to your website
Bringing in new business and expanding your customer base
Fostering relationships with new and current customers
Providing customer service to current customers
Boosting engagement with your employees, partners, and stakeholders
Managing your brand's reputation
Once you've established goals, you'll need to define your company's target audience. Trying to appeal to everyone on social media will make your message fall flat. By defining the ideal customer you want to reach, you'll be better able to personalize your content so it resonates with the right people.
Next, it's time to choose the right platforms, create a content and posting plan, and execute your social media marketing strategy. See below for guidance on picking the right social media platforms for your business.
When it comes to a content and posting plan, there are a lot of directions you can go. Overall it's best to keep your audience in mind. What content would they be most interested in? What pain points can you help solve through your content?
Your content should be relatable, helpful, and interesting for the most success. Post consistently—at least one to two times per week—to ensure your accounts remain active and people can discover your content.
Other resources for building your social media strategy:
What are the most popular social media platforms for businesses to use?
There are a plethora of social media apps to choose from, which can be overwhelming (even for consumers). Below are the most popular social media platforms for businesses to use, organized by monthly active users. We also expand on the three we most often recommend for businesses: Facebook, Instagram, and LinkedIn.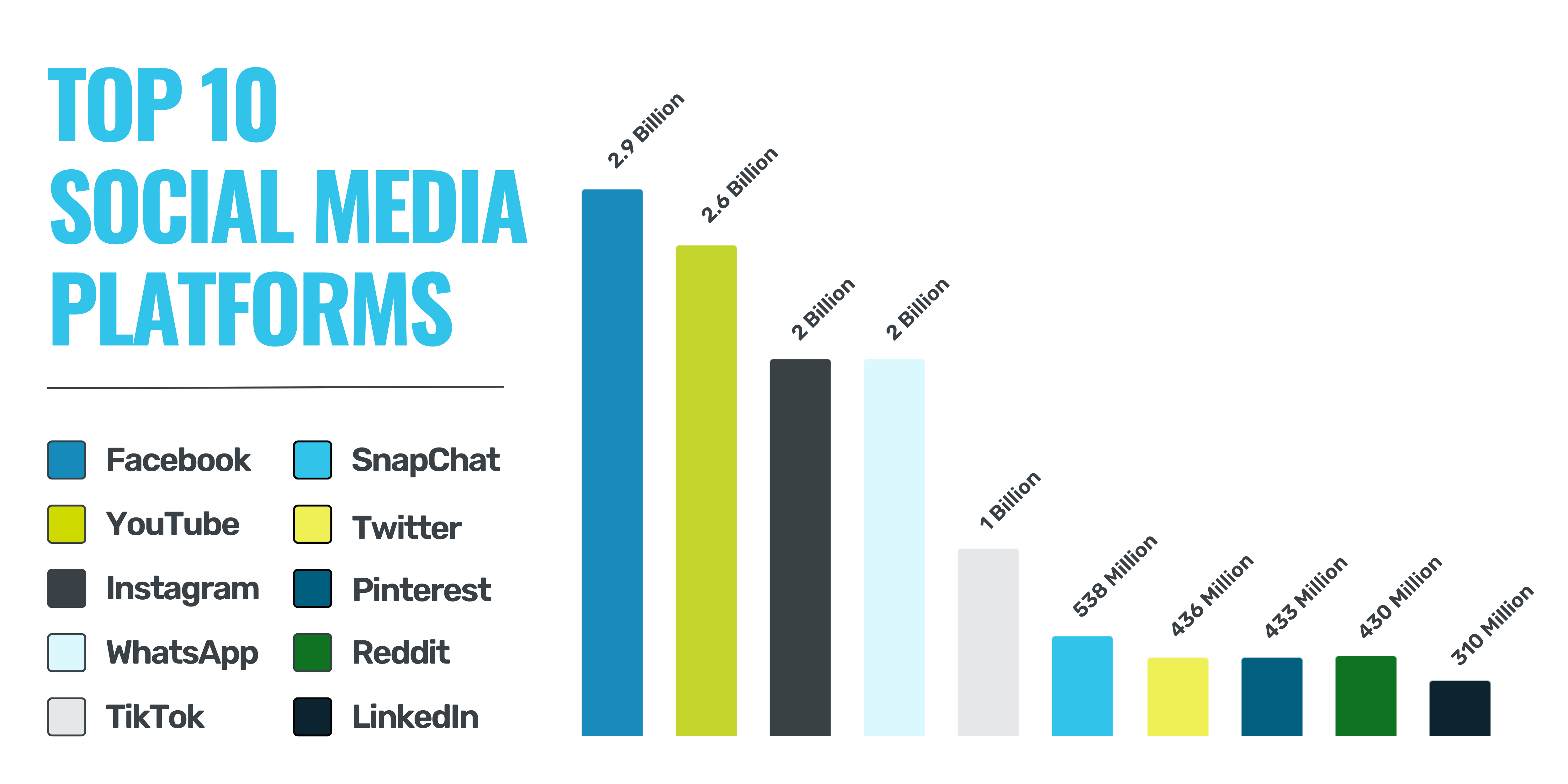 Facebook
For many businesses, having a dedicated Facebook page is a no-brainer. After all, it is the number one social media platform for both users and businesses.
With such a large demographic, Facebook can be a great platform for both B2B and B2C businesses to find their target audience. Facebook's robust advertising platform (link to new social ads blog) also provides the opportunity for your business to talk directly with your buyer personas through customized and targeted ads.
With Facebook being such a large platform, there's also a lot of competition. That's why it's important to ensure your content is unique, valuable and speaks directly to your target audience.
Learn more about how to use Facebook for your business:
Instagram
Instagram is another popular platform for businesses and is owned by Meta, the same company that owns Facebook.
Originally a simple image-sharing platform, Instagram has morphed into a popular place for visual content, influencers, and ecommerce. If you're a B2C company or if your brand has strong visuals, Instagram is the platform for you.
Instagram stories, reels, livestreams, and shops are all effective tools businesses should utilize on the platform.
Learn more about how to use Instagram for your business:
LinkedIn
LinkedIn is a fantastic place for businesses and has grown into much more than a place to find new talent and apply for jobs. This professional platform is especially ideal for B2B companies, as many decision-makers utilize LinkedIn regularly.
Using LinkedIn, your business can connect with other industry leaders, engage in thought leadership, research prospects, find new qualified leads, and stay up to date on industry news. LinkedIn's robust advertising platform can also be an effective tool to help your business grow. (link to new social ads blog) <-- Yeah, that's placeholder text on a live page but learn more about why we're not worried about it.