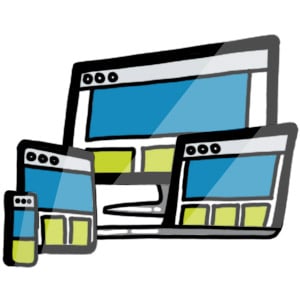 Your website is more than an accessory to your organization. With more and more business being conducted online, it's an essential tool for communicating your brand and converting prospects into customers.
Think of your site as you would a storefront in the real world. If you had malfunctioning equipment, faulty lights, and dust building on empty shelves, you probably wouldn't see a lot of business coming your way. Similarly, a carelessly crafted and poorly maintained website can scare customers away.
Tribute Media takes pride in making clients stand out online. We have the skills and experience to build you a website that communicates your business vision to your target audience. To get an idea of where your website stands right now, get a free web marketing checkup!
COMPONENTS OF A GOOD BUSINESS WEBSITE
Any good business website needs the following:
FUNCTIONALITY
Your website should be easy for visitors to use. Again, think of your site as a physical location. If customers don't know how to open the doors, they won't make it inside to buy what you're selling.
OPPORTUNITIES FOR INTERACTION
Your website needs to give visitors opportunities to interact with you. The more chances you give them, the longer they'll stay. And the longer they stay, the greater chance you'll have of winning them over with your message and vision.
How do you give people the chance to interact? Encourage them to comment on your discussion forums and blogs, for starters. You should also share content on Facebook and other social media platforms (for more on this, check out our page on Social Media Management).
DYNAMIC CONTENT
To truly engage your customers, good storytelling skills are key. Your website needs to feature dynamic content—content, in other words, that not only describes your offerings but also:
Conveys a sense of your unique character

Tells the story of your business—where you've been and where you're going

Gets customers excited about making you a part of their own stories
MEETS WEB STANDARDS
Generally speaking, you don't always need to keep up with the Joneses in life. When it comes to your website, however, you definitely do.
People tend to expect sites to look and function in a certain way. For instance, company logos usually show up in the top left corner of a page while a contact option goes in the top right corner or the footer (just look at this page here—that's exactly what we do). Also, it's extremely important for a site to look good and function well on mobile devices.
If your site doesn't follow web standards like these, customers can get confused. Consequently, they'll become less likely to follow your calls-to-action.
Want to see some of the functional, interactive, dynamic websites we've created?

TOOLS FOR DEVELOPING WEBSITES
Want to peek inside Tribute Media's toolbox? Check out these pages to learn about our resources for building your web presence:
MARKETING YOUR WEBSITE
Constructing your website is just the beginning. Tribute Media can also help you craft a marketing strategy that covers your website and other aspects of your online presence. For more information, explore our other services:
Want to ask us questions about your website? Get in touch with us via our Contact Us page!