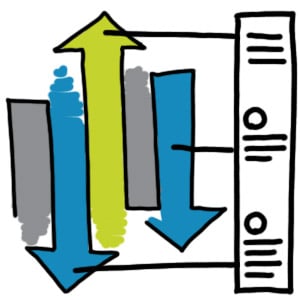 A big part of your brand is the visuals that go with it. In addition to your logo, your ads and your website, you can utilize other branded, graphical content as an interesting way to communicate to your audience. We all learn and retain information differently, so you can bet that you will have site visitors who will appreciate an infographic or other visually interesting way of explaining how they'll benefit from doing business with you.
Think of your website as a house. Graphics are your furniture or the pictures that you hang on the walls. When you invite someone into your place, they'll get a sense of your character and personality by what they see around them. The same thing happens when someone checks out your site.
Tribute Media can help you stand out and make the right impression.
HOW TRIBUTE DOES GRAPHIC DESIGN
Tribute Media takes an innovative yet methodical approach to graphic design. We work diligently and think outside the box to design graphic-based content that looks fresh and suits your brand and vision.
Here are some steps that we take:
WATCH THE Digital Marketing TRENDS
Trends and standards in web design change constantly. We stay up-to-date on these changes to make sure your site doesn't look dated before it even goes live.
ANALYZE THE COMPETITION
No one likes showing up to a party and seeing someone else wearing the same outfit as them. In business, it's even worse.
Your company's success depends on standing out from your competitors. That's why we check what others in your field are doing design-wise and figure out ways to surpass it.
RESEARCH NON-INDUSTRY DESIGNS
Good musicians don't just listen to one style or genre of music. They'll pull inspiration from a wide variety of stuff and develop their own style from those bits and pieces. This is true of everyone from Bill Monroe to Kendrick Lamar (if you don't know those names, look them up).
Tribute Media takes a similar approach to concept graphic design. We'll look at designs both in your industry and outside of it to come up with something new for you.
CREATE AND REVIEW A MOCKUP
Ideas and plans are great, but you need to test them to make sure they'll work. That's why we'll do a rough draft or mockup of your design. It lets us see whether or not our ideas align with your goals.
GET FEEDBACK
So you've got a new logo/website/etc. that you like. That's good enough, right?
Well, maybe not.
In the end, what you think about a design doesn't matter as much as what your audience thinks. For that reason, we recommend asking for feedback from your customer base. If they like it, that's a good sign.
For more details on how Tribute Media does graphic design, contact us!