PPC vs SEO: The Showdown
Posted by Nikki Wardle on Jan 17, 2018 2:38:00 PM

We gave a little update to this popular blog post from 2016 to make sure you are getting the most accurate and up-to-date information possible.
"Should my business be using Pay-Per-Click (PPC) ads or an organic Search Engine Optimization (SEO) strategy?" I get that question all the time. And of course, my answer is, "It depends. What are your goals?"
What? You mean it's not a straight "yes" or "no"? Of course not. The answer is significantly dependent on what your company goals are. Are you selling a new product or service? Is there a great deal of education involved in purchasing your product or service? Is there a significant barrier to entry for your product? Are you well-known in your industry? These are just a few of the questions you need to answer before looking at PPC or SEO.
Before we get ahead of ourselves, let's first look at the difference between PPC and SEO. Or check out this blog that gives a great analogy.
SEO VS PPC ANALYSIS
SEO is not only about optimizing your website and content to rank higher in organic search results for targeted keywords on the most impactful search engines; it's also about being an authority on the problem at hand and the solution you provide. The major search engines like Google, Yahoo, and Bing look at how people interact with your site, if they come back, and if other sites are linking to your website pages (along with a few hundred other factors).
PPC (Pay Per Click), on the other hand, is all about paying for advertising space for specific targeted keywords on search results pages. But make no mistake, there is a great deal of search engine optimization when creating a paid ad campaign.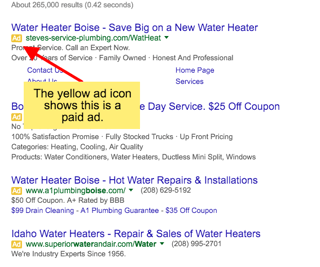 Here is a screenshot of a Google search for the phrase "Water Heater Boise." The PPC ads show at the top of the search results page with the yellow tag labeled 'Ad.' Below the top ad space, you will see the natural search (SEO) results displayed in the main area of the search results page.
As this screenshot clearly reveals, you can pay for a presence on keyword phrases through PPC or, you can earn your presence organically with SEO efforts.
IS ORGANIC SEO BETTER THAN PPC?
Again, it depends. Your long-term web marketing strategy should always include search engine optimization. The major advantage of SEO is that, statistically, it brings you better quality traffic leads. In fact, many users have subconsciously trained themselves to ignore "paid results" entirely when browsing the web or searching on Google.
There are mountains of data that suggest "Natural Search" visitors to your website are far more likely to trust you, your business, and your products & services. Ranking highly in Google for a keyword or phrase is a clear sign that you are a credible source and that you are an important player in your industry.
But do NOT fool yourself into thinking that SEO doesn't cost anything. No matter how you look at it, SEO comes at a cost. Whether it's your own time or hiring an outside vendor to manage your SEO strategy, SEO isn't free.

SO YOU'RE SAYING DON'T USE PPC?
Don't shrug off PPC yet. There are quite a few advantages to PPC over organic searches. For example, if you set up your campaign correctly, you can see significant returns on your investment. And it's not just a matter of who pays the most to be in the number one ad spot. Always remember that the search engine's number one priority is to return the BEST results for the user doing the search, not the company paying for ads. For example, if Google always puts the highest bidder on top, but the ad didn't offer a solution to the problem the user was searching, that user would start using another search engine. Google didn't get to be the most used search engine by always displaying the highest bidder.
Another advantage to PPC is the ability to advertise on other sites that have a significant amount of traffic that fit your buyer personas. If a user sees your ad on a search (and does nothing), but then later that day is reading their favorite blog and sees your ad again on the sidebar of that blog... well, there's a good chance that user will consider your product again.
FINAL ANALYSIS
In response to my original question of "Should I be using PPC or SEO for my business?", my answer is still the same: It depends.
Pay-Per-Click is a great way to jump-start your business' digital marketing efforts with immediate traffic. To get the most out of PPC, it is wise to take the time to get the right training and certifications. Google offers this training in their certification process for both Google Adwords and Google Analytics, which is free for all businesses. If you don't have time or resources for this, it's important to hire someone with the experience and training in PPC. Just be conscious that when you turn off PPC, the traffic goes away too.
Search Engine Optimization is highly important and does take some time to build page authority and be indexed for the right search terms. Also, count on many fluctuations in your rankings, especially if you are in a highly competitive market. You never know when one of your competitors is going to step up their game and become an authority in your industry.
Do not be discouraged, because a long-term SEO strategy is going to bring you the most qualified leads. Additionally, your SEO efforts (improving page content, back linking, titles, meta descriptions, etc.) will directly help your PPC results as well.
When done correctly, both PPC and organic SEO can get you on the front page of the search engines for targeted terms. However, each has its respective benefits and costs. Good luck!
Nikki has a degree in Marketing from Boise State University and has been an Inbound Marketing Specialist at Tribute Media since 2014.
Please Leave a Comment: