SEO vs SEM in Digital Marketing
Posted by Emery Pearson on Jun 1, 2022 11:43:00 AM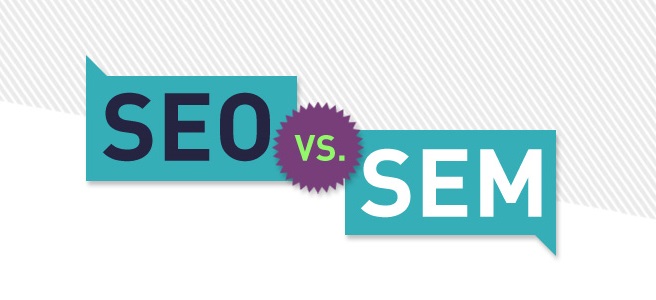 Search Engine Marketing (SEM) and Search Engine Optimization (SEO) are two very important terms in the world of digital marketing and can mean a lot of new traffic for a business. One important principle is that all SEO is SEM, but not all SEM is necessarily SEO.
Here's one way to think about it: SEM is like the CEO or owner of a company. That company employs SEO, Pay-Per-Click Advertising, Social Media Marketings, Content Marketing and Website Design. Each of the employees work together, and they all work for SEM.
First, we'll break down SEO and SEM for you so that you can better understand and distinguish the difference.
Overview of Search Engine Optimization (SEO)
Search Engine Optimization is the process of gearing your website toward achieving better results on Google (and other search engines) through organic search. This means that you're not paying search engines directly for results. You're letting the bots do their thing by crawling and ranking the information on your site, placing you on the Search Engine Results Page (SERP) where they see fit.
SEO can be complicated, but in the scheme of digital marketing, the overall approach is this: providing high-quality, relevant content on your website that has been optimized for search. There are various components (see our quick start SEO guide for an overview) that include on- and off-page optimization, technical SEO, and more, but a key takeaway is the better your content and the more authoritative you are in Google's eyes, the better your site's chances are to achieve a high ranking in organic search results.
Bottom line? SEO is a long-term strategy that can help you drive organic traffic to your website. It's not a quick-fix and instead requires strategic planning, content creation, optimization, and an understanding of the market and your industry. It is one piece of SEM.
Overview of Search Engine Marketing (SEM)
SEM is often used to describe paid advertising only—which isn't technically correct. The basic premise behind SEM is that its sole purpose is to gain a higher visibility and traffic on search engines, whether this is via paid or organic traffic.
Pay-Per-Click (PPC) advertising comes into play as it allows companies with the right budget to get premier ad placement for certain keywords. Google's version of PPC comes in the form of its Ads platform (formally known as Adwords), which has pretty much set the standard for SEM everywhere.
How do they do it? Google has the luxury of housing massive amounts of data that all contribute to how much a company will need to bid to get the best chance at a top spot for one of their ads. Obviously, the top spot on the first page for a certain keyword is going to be pretty pricey, and the big corporate companies get into the mix. There are also more specific keywords that can be targeted geographically that the little fish also get a chance to get a piece of.
SEO & SEM: What's the Difference?
SEO is focused on attracting organic traffic to your website through various means, relying on search engine algorithms to show your pages on the SERPs to potential customers. SEO requires quality content, an understanding of optimization techniques, and long-term goals in order to sustain non-paid traffic. For many in the industry, SEO strategies also include user experience and other tactics that don't directly influence SEO, but that have an overall positive impact on both your authority and the experience visitors have when they come to your site.
SEM, on the other hand, encompasses everything that gets users to your site, including SEO and PPC/paid advertising.
In terms of work, SEO is more complicated than PPC, as it requires things like content creation, optimization, ongoing refining, keyword research, competitor analysis, and more. SEO also takes longer to see results. This approach is "free," kind of. You don't pay for it directly (unless you have hired an SEO agency to help) like you do with ads, but it does take quite a bit of time and effort.
Setting up your ads is the most time-consuming part of PPC, and it does require some understanding about what you're doing (though Google does offer some DIY options that help newbies set up ads—these aren't always ideal, but they do work). The requirements for PPC include writing copy, knowing the geographical area you want to target, understanding what your budget is and what it will get you, and finding your way around the Ads platform. Once you have your info loaded into the platform, you can essentially set it and forget it (though we recommend regularly checking in and making tweaks as necessary), and you start seeing results almost immediately.
Conclusion
All SEO is SEM, but SEM is not just SEO. SEM includes all digital marketing efforts that get users to your website—including organic and paid traffic.
Want more info about using SEM and SEO for your business? Let's chat!

Emery is the content strategist at Tribute Media. She has an MA in rhetoric and composition from Boise State University, and she is currently an MFA candidate in creative writing at Antioch University. She lives in southern California with a bunch of creatures and many plants.
Please Leave a Comment: