The Best Google Tools for Web Marketing
Posted by Emery Pearson on Apr 20, 2020 7:45:00 AM

The tools you use for web marketing and website management are important, and there are so many of them out there for you to use. Most people find a few that become favorites and typically end up paying for at least one. However, Google offers a variety of tools for free that you should absolutely check out.
Let's take a look at what Google has to offer.
Google My Business Marketing Kit
If you have a Google My Business listing, you can claim a free marketing kit based on your business information. From window stickers that encourage your customers to leave reviews to social posts, there is a lot of great stuff available. You can even get materials based on reviews you've already received (check out one of ours below!).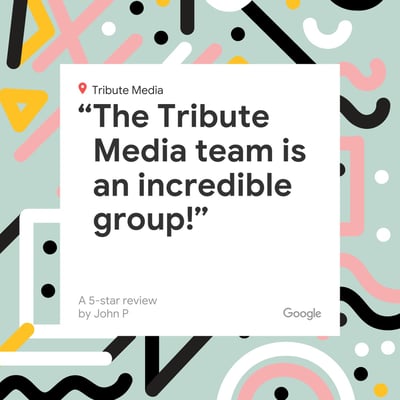 Think With Google Digital Marketing Tools
This site is your one-stop shop for an array of useful tools (some of which we'll discuss more in-depth later). The toolbox includes links to industry-specific tools, like trends and benchmarks, as well as diagnostic tools to test your site.
Data Studio
Data Studio uses data from your site (including analytics, ads, and more) to create flashy reports. The platform can be a bit tricky to figure out, particularly if you have multiple sites under one account. There are tutorials and courses out there -- both from Google and other sites -- so you'll probably want to check some of those out as you get started.
Google Trends
See what people are searching for across the world with Google Trends. This data can be super useful if you're trying to get a sense of what kind of content will be timely and relevant. Plug in any search term and see search volume on it and related terms. Adjust the location and/or time range, or drill down into specific categories.
Optimize
Conducting experiments and testing on your site is a must for long-term success. Google's Optimize makes it easy to set up A/B testing for landing pages to improve conversions or experiment with different designs or layouts. One version is free, and a paid version (Optimize 360) is available for enterprises. The free version offers plenty, so it's doubtful that you'll even need to look into the paid version.
Search Console
Search Console is one of the most important tools for your website. If you aren't already using it, you're missing out on lots of data related to your site. Here, you'll be able to see impressions on pages or keywords, understand click through rate for those pages or keywords, and see the backlinks pointing to your site.
Search Console will also give your insights about site speed and mobile usability. Any issues with your site -- errors or penalties, for example -- can be found here. Search Console is also where you can submit a sitemap and see which pages Google has crawled, indexed, or not indexed.
Google Alerts
If you want to get a notification any time something appears online, say, your company name (or your own name), Alerts is what you're looking for. Set up new alerts for anything and you'll receive an email with a notification. This can be useful for link building, in particular. Be careful though -- there's a lot of stuff online, and something common (like "John Smith") will mean a lot of notifications. You can set up frequency and sources, so it's smart to have a strategy (and some goals) in place as you set up your alerts.
PageSpeed Insights
Once you've signed up for Search Console, you will be able to see how Google is seeing your site speed. If you have any pages that are slow or medium speed, head over to PageSpeed Insights for details about what is slowing it down and how you can improve it.
Drive
This might be one of the most obvious ones, but it's worth mentioning anyway. Google Drive is a free cloud storage service attached to your gmail account. You can create and share documents, spreadsheets, or folders for easy storage and super simple collaboration. It's a fantastic option for keeping everything together (and particularly beautiful if you're a little obsessive about organization, like me).
Have fun playing with these free Google tools! Have questions about how to put them to use for your marketing strategy? Get in touch and we'd be happy to chat.
Emery is an inbound marketing specialist in search engine optimization and content writing. She earned a Master of Arts in rhetoric and composition from Boise State University. In her free time she writes about birds (mostly geese).
Please Leave a Comment: