Comparing Popular Website Grader Tools
Posted by Emery Pearson on Nov 15, 2021 10:47:00 AM

Website graders and SEO tools offer website owners and marketers an opportunity to learn what's happening with their site, from site speed to errors and more. But which one is best? How do you know what information matters? Today we're looking at three popular tools: Hubspot's Website Grader, SEMrush's Site Audit Tool, and Google Search Console's error reports.
What is a Website Grader Tool?
"Website grader" is another name for any tool that crawls and assesses a website to look for errors that might affect organic traffic. We also call them SEO tools, and you might see other tools in addition to the three we're talking about, such as Ahrefs, Moz, SpyFu, and more.
Essentially, a website grader tool will tell you what's wrong with your site, with some assigning a grade or percentage in terms of health or SEO. Good tools will tell you not just what's wrong but how to fix it, and all tools will have their own spin on what's important or necessary to fix.
How Do You Use a Website Grader?
Using a website grader depends entirely on the tool itself, as each one offers a different perspective on your site. But in general, a website grader should be used in order to see what needs attention on your site—with the understanding that these tools are not infallible and that the warnings aren't always fixable. Having a low grade or score doesn't mean that you'll never appear on search engines results pages (SERPs) or that Google is going to penalize you.
We recommend using a website grader to give you a high-level overview of your site's health, and to look for things you can fix in order to improve performance. It's important to understand that no site will pass with flying colors—you'll always have errors and issues as long as you have a website on a content management system or CMS.
Next, let's take a look at three different tools to get a better sense of how you might use them individually (or together!).
Which Tool Offers What?
While there are many different tools available (both free and paid), we're just covering three that we use most often. Here's an overview of Website Grader, Site Audit by SEMRush, and Google Search Console.
Hubspot Website Grader
Website Grader is a free tool offered by Hubspot. To use it, simply enter your URL and email address, and Hubspot will crawl your site and provide you with a breakdown of the results. Your website is "graded" across four general categories: Performance, SEO, Mobile, and Security. Under each area, Website Grader explains what passes and fails, why, and what to do about it.
SEMrush Site Audit
SEMrush's software offers a wealth of tools and data for SEO, social media, and other marketing efforts, with a free and paid version available. The Site Audit option crawls your site (if you don't have a paid version, you're limited to 100 pages) and provides an overview and breakdown of over 130 different SEO-related checks. A Site Audit gives you a percentage grade (out of 100) and highlights issues based on importance (Errors, Warnings, and Notices). Each item has information about why it matters and how to fix it, and you can keep track of your site's progress over time.
Google Search Console
A free tool available for every website, Google Search Console has a ton of data on your website related to organic search, as well as various error reports. Search Console is constantly evolving as Google adds new features and changes its stance on what's important for users—for instance, their emphasis on site speed means some of the key error reports on the platform are related to speed.
The error reporting available on Search Console includes Page Experience, which is broken down into reports on Core Web Vitals, mobile usability, and security. You might also see errors around indexability, or pages that Google tried to add to their index but were unable to due to coding.
Learn more about how to utilize Google Search Console for your business.
Pros and Cons: Comparing the Graders
Now that you have an idea of what these three tools can do, let's compare them.
HubSpot's Website Grader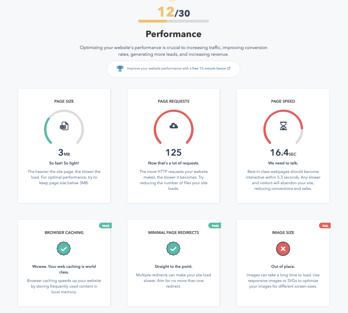 The Good
Information is easy on the eyes and understandable at first glance
Brief descriptions that provide a "why" something needs improvement that anyone can understand
Provides action items and benchmark numbers to aim for as you make changes on your site
It's free!
The Not-So-Good
No additional on-page information to dive deeper into the issue within the grader itself, so understanding and fixing the issue may require more research to be able to complete
No additional context (such as links to problem pages) included to allow users to see the issue on any given page, so knowing where the issues are happening on the site takes more work than other commonly used tools
Who should use Website Grader: Anyone who wants to start thinking about their website's performance, in particular those who are novices in web marketing and development. It's also helpful for marketers to be able to show an at-a-glance overview of a new or potential client's website performance since it is quickly generated, visually appealing, and communicates the good and bad at a high level.
SEMrush's Site Audit Tool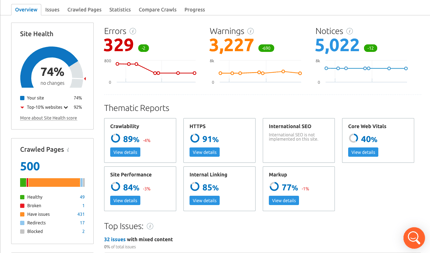 The Good
In-depth information about technical, on-page, and site-wide issues with comprehensive messaging about what everything means and how to fix it
Ability to see overall issues and where exactly the issues are on which pages, as well as statistics on SEO data that matters, such as crawlability, markup, and links
The Not-So-Good
The numbers and sheer amount of errors on any given site can be alarming; without proper context and technical SEO know-how, it can be overwhelming to attempt to decipher.
Some of the most common errors reported need to be further evaluated to measure the risk. vs. reward of "fixing" these errors. For example, removing embedded code that could be generating regular income in order to improve your page load speed for SEO purposes or removing built-in javascript that allows your team to make updates to your CMS without a developer.
The free version is limited and the paid version can be expensive
Who should use SEMrush: Experienced marketers or website owners who are ready to tackle larger errors, learn more about their site, and track website performance over time.
Search Console Error Reports Pros and Cons

The Good
Information about your site from the entity that matters most when it comes to search: Google itself
Additional site error category reporting compared to the other tools, such as indexability
The Not-So-Good
Data is presented without the same detailing about "why" and "how" compared to other tools, so it can be difficult to know how to fix issues without further research
Far less error information and context compared to other tools
Who should use Search Console: Everyone who cares about their site should be using Google Search Console. At the very least, you should have access to your site's property in GSC and you should check in regularly to see if there are any errors to address.
Conclusion
Each of these three website graders offers something unique, which is why it's a good idea to use more than one of them. SEMrush and Search Console also provide a lot more than just error reporting, making them useful tools for SEO in general.
Seeing multiple errors and low grades in various tools can be stressful for businesses and website owners, so it's important to understand that they don't provide a full picture of your site's health or performance. When in doubt, listen to your marketing team, or, if you don't have one, fill out our marketing checkup form and let us give you a hand.

Emery is the content strategist at Tribute Media. She has an MA in rhetoric and composition from Boise State University, and she is currently an MFA candidate in creative writing at Antioch University. She lives in southern California with a bunch of creatures and many plants.
Please Leave a Comment: