Why Instagram Captions Matter and How to Write Them
Posted by Sarah Wai on Jun 15, 2020 8:45:00 AM

Every Instagram Influencer knows that likes, comments, and shares are like a form of currency on Instagram. The more likes, comments, and shares they consistently generate, the more they are able to gain partnerships with brands and continue the cycle because they have high engagement. Why is this?
Instagram's algorithms focus on engagement. The more users engage with a specific profile or hashtag, the more those users are going to see of the said profile or hashtag. This makes Instagram post strategy and creation essential because appearing in front of Instagram users is critical for success.
A Photo is Worth a Thousand Words, but a Caption Helps on Instagram
Instagram is a popular image-heavy social media platform that engages audiences through the sharing of images and video. However, images aren't the only factor that plays a part in user engagement. You may have an incredible photo to share, but if you don't have a great caption to go with it, then you risk falling flat on your face when it comes to engagement. Giving the proper attention to your Instagram captions is key to success in Instagram's algorithms.
Instagram captions have the potential to add context to the images and videos you share, as well as details that users may not have known otherwise. They are especially important if you have an Instagram Business profile, which you should if you are a business. If you don't have one, that's your first task. Make one!
Shopify released an article on Instagram captions where they note,
"A strong visual on Instagram can make users 'slow their scroll' and stay locked on your post, but a carefully thought out caption can do a lot more heavy lifting in terms of marketing and sales."
If you take the time to take incredible photos for your Instagram business account, but then you whip out a caption in five seconds and call it good, you could be missing some opportunities.
How to Write Instagram Captions Effectively
When you get ready to post a photo or video on Instagram, take the same approach with your caption as you would any other valuable piece of marketing or sales content. Write a draft, edit it, come back to it later if needed or have someone else's eyes on it, edit it again, and then put it out there. Don't be afraid to take your time-- within reason (I'm talking minutes to hours, not weeks to months for a couple of lines of text). The point is that there needs to be real thought and strategy that goes into it. When you rush, you'll find that you make many careless mistakes when it comes to spelling errors or false information. Show your followers that you care to add value to their lives through the careful consideration of your Instagram captions. To do so, you'll want to do the following:
Put the most important information first, as this is the first thing people see. If you can't capture their attention with this, they won't read the rest.
Keep them short and concise where possible, especially as a business. If you are an influencer, you have a higher chance of followers reading your captions because they already have learned to value what you say. However, if you're a business, chances of followers reading long captions are slim-to-none, especially if you're promoting a product or service.
Get creative about how you encourage engagement. Because Instagram deems engagement to be an indicator that users want to hear more from you, you have to get creative about how to get that engagement so that your posts continue to show up in front of users. You can do this by asking for people's opinions or recommendations, inviting questions or comments, encouraging followers to tag their friends, etc. Then you'll want to reply to as many users as you can to drive more engagement! Many Instagram Influencers have learned that by sharing their post in stories and encouraging engagement there that they have a higher engagement rate on their posts than if they weren't to share in stories.
Take the opportunity to drive traffic to your website. If you have products for purchase online, one of the biggest goals of your Instagram account should be to encourage sales from followers. Purchases can't be made directly from Instagram; However, if you're an approved business, you can add product tags to your Instagram posts. These product tags can take users directly to the products on your website.
Utilize hashtags at the end of your Instagram posts. Hashtags help users find your posts organically on the platform, but they are also a good indicator for Instagram when it comes to finding 'like audiences' that may be interested in your content.
Mention other pages in your Instagram captions where appropriate. This can also help increase engagement because Instagram uses this information to connect your content with different profiles and can, again, show it to 'like audiences' that may be interested in your content because they are interested in the tagged account. Plus, tagged accounts usually share content they are tagged in, which is also increased exposure for your account.
Be human by being relatable. Relatable Instagram posts always receive higher engagement--that's a fact. So don't be afraid to show the human side of your business and to spark real conversations with your followers. Always avoid super sales-like jargon.
Why Do Captions Matter So Much Right Now?
Well, the short answer is that "Instagram captions" is a trending topic in search engines, which reveals the importance they have to accounts that want to expand their influence and encourage greater engagement from Instagram users.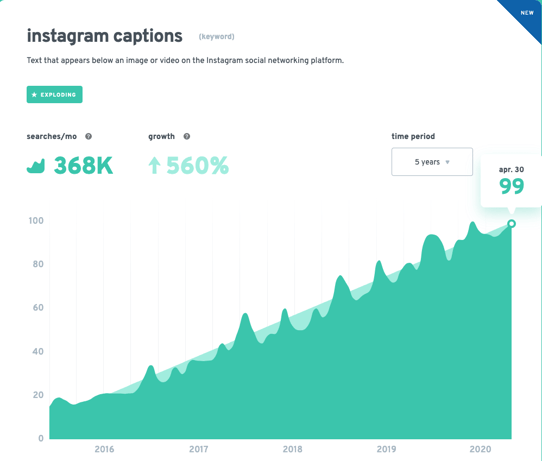 According to Exploding Topics, as you can see in the above chart, "Instagram captions" is on an upward trend and has been for years now. It's something you can't ignore if you want to be successful on Instagram.
So what are your next steps? How are you going to focus more on Instagram captions so that you encourage greater engagement? Take a look at your past posts and evaluate them to see where improvements can be made going forward. Then create a strategy for how you're going to create your Instagram captions in the future so they align with your business goals and encourage a greater amount of engagement.
Former Content, Email, and Social Media Marketing Specialist of Tribute Media. Bachelor of Science in Digital Communication Arts and Master in Business Administration.