4 Ways To Increase Your Healthcare Company's Online Presence
Posted by Sarah Wai on Jun 14, 2021 8:21:06 AM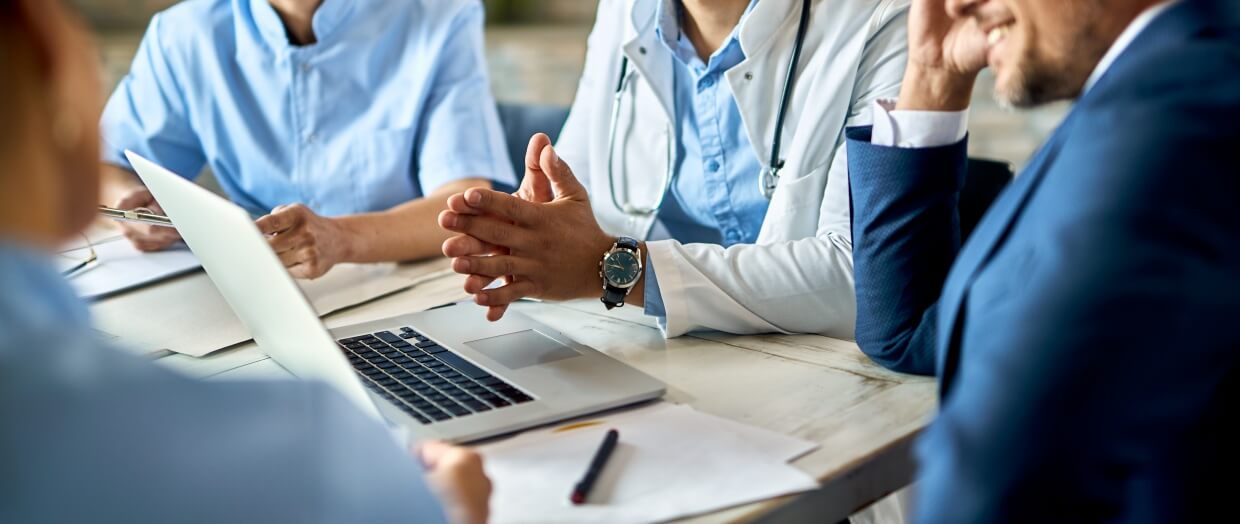 Just having a website on the internet is no longer enough to be found online. All industries are experiencing that reality and are recognizing the need to have more of an active approach to their online presence. Healthcare companies are no exception!
Sure your website may have a lot of traffic coming from patients attempting to access their online portal or to find their provider's contact information, but that's not the kind of traffic that brings in new business. Providing a good user experience and online presence that works for current patients is a basic necessity. But good user experience and online presence that also captures the interest and business of potential patients can be revolutionary!
What Potential Patients Are Looking For
The healthcare industry is very saturated and competitive. The likelihood of a patient (that wasn't directly referred to you) choosing your practice will likely depend on your online presence. They're going to be asking themselves the following questions:
Do you have good reviews? Do those reviews instill trust? Do you handle bad reviews professionally and in a way that makes amends with patients that had a negative experience?
Do you have the type of medical provider or services that they need? Is it clear what your services include? Do the providers look like someone they can be comfortable sharing personal details with?
Are you providing them with resources they can consume online before they commit to an office visit?
4 Approaches to A Better Online Presence
Your online presence should be seen as the path to your physical front door for a new patient. Let's take a look at four ways you can improve your online presence and, consequently, increase the amount of new patients for your healthcare organization.
1. Build a Website that Addresses Current and Future Patients
Obviously, a website is essential. But just purchasing a URL, giving your site minimal design effort, pushing it live, and calling it good isn't going to cut it.
Here's an action item for you: Take 5 minutes of your time and do a Google search for "healthcare near me." Now click on the first three websites that are listed and digest what you're seeing. Are some of those websites obviously easier to navigate or more attractive than others? Is it clear right away what they offer and how they can help patients? Do they provide free resources that answer questions that potential patients may have?
Now ask yourself: How does YOUR website compare? Is it better? Is it worse? Did you identify room for improvement? Make a list of your observations.
Your website should have the ability to easily point current patients to their most pressing needs (i.e. a patient portal, bill pay option, and contact information for their providers). But it should also be a hub of information to attract future patients! They should easily be able to identify what your specialties are, find your locations, and access free online resources that answer frequently asked questions relating to your services.
What A Successful Website Can do
A perfect example of this was a women's health clinic client of ours. We held a workshop with their staff to create 3 buyer personas based on their understandings of their ideal patients. During that exercise, we were able to identify their ideal patient's characteristics, the types of services they needed, and the challenges in life that prevented them from taking the next step to schedule a new patient consultation. We then were able to create a content strategy to target their buyer personas at a high level by addressing common questions, challenges, and encouraging them to see a medical provider for next steps and additional resources.
The result was incredible! The clinic saw a huge jump in traffic to their website and captured multiple featured snippets in Google searches.
We saw very similar results with a medical weight loss clinic client. By creating pillar content and resourceful content offers for their website, we were able to increase their website traffic by 149% in the span of one month! They had a massive amount of blogs that they had written over the years, but the content was lacking. So our team optimized that content and improved upon it to better serve their website visitors.
2. Direct Website Visitors Through the Buyer's Journey
Have you ever done a content audit? It's amazing what insights such a thing can provide. Granted, it's a BIG undertaking that needs continual check-ins.
Most healthcare organizations probably can't say they've done a content audit. But, one of our cardiac care clients saw a huge impact when we did one for them and then utilized the Inbound Marketing approach in their marketing efforts. We were able to identify all of the holes in their content that prevented website visitors from moving through their buyer's journey. Once we identified those holes, we created content and tools for them that kept that process moving and helped them generate leads through their website. We continued our content optimization journey with them by optimizing and improving all of their existing content for search engines and for real people looking to have their questions answered and problems solved.
If your website isn't directing visitors through the buyer's journey, what is it actually doing for you? So much of lead generation isn't about quick wins, but about building trust through resource after resource that eventually provides leads with solutions to their problems. If you can prove through the buyer's journey that you are the solution to a lead's problem, then you are winning the lead generation game.
3. Be Active on Social Media
With HIPAA in play, many healthcare professionals think that social media is a no-go. But that's not true! There is simply a difference in how a healthcare organization can use social media and how other unregulated industries may use it. Social media can be a powerful tool for healthcare organizations, in that it can help:
Market your products and services
Improve your visibility locally or nationally
Help your audience get to know the providers available to them
Provide evidence-based medical information to combat all of the misinformation being spread on social media
Recruitment
The beauty of social media is that it can be used to share a variety of content, including blog posts, podcasts, events, images, videos, etc. We were able to use videos that our women's health clinic client created to introduce them on social media to their followers, and those videos had excellent engagement. People discovering you for the first time on social media like to put faces and voices to names, and video content can be a great way to do so.
4. Invest in Paid Search Advertising
The chances of your competitors using paid search advertising are very high. Why? Because of these stats:
90% of internet users see Google ads
75% of internet users click on ads to find the most relevant information to their search query
63% of internet users say they'll click on a Google ad to find what they're searching for
Paid search visitors are 50% more likely to convert than organic search visitors
If you want to increase your leads through Google search, paid search advertising is the fastest way to do so. Organic search efforts typically take a couple of months to start showing traction, so paid advertising is a great way to boost your Google search traffic in the meantime. But it also doesn't hurt to have SEO and PPC simultaneously. In fact, doing both will always positively impact your Google search traffic!
Take Your Online Presence to the Next Level with Tribute Media
Since 2007, we have built hundreds of websites and performed web marketing services for companies all over the world. We are based in Meridian, Idaho, but perform work for clients across the United States and internationally in a variety of industries. One of our favorite specialties is working with healthcare organizations.
See how this approach helped an Idaho women's clinic improve its online presence (and therefore lead generation) by more than 8x.
We believe that your online presence is the foundation for all your web marketing needs. Building a website is just the beginning. It is our mission to help you create a relevant and evolving presence on the web that generates leads and solves all of your digital needs as a healthcare organization. Are you ready to take the next step toward growth? Let us know!
Former Content, Email, and Social Media Marketing Specialist of Tribute Media. Bachelor of Science in Digital Communication Arts and Master in Business Administration.
Please Leave a Comment: