How to Calculate the ROI of Your Company Blog
Posted by Sarah Wai on Aug 11, 2017 9:02:00 AM

Let's be honest - if you aren't blogging, then you need to be; and if you are blogging but don't see the benefit, then it's time to re-evaluate your blogging strategy.
There are a number of ways to determine the ROI of your blog, and those ultimately depend on your goals. However, we've determined one way that may help you in determining if you are getting the ROI you need and what's included in that calculation.
See, here's the thing: if you are only blogging for blogging sake, then you are going to see a minimal return on investment. Read on to learn about what it takes to get a maximum ROI for blogging.
Blogging as a Cost-Effective Marketing Investment
According to SproutContent, "Blogging is a cost-effective marketing investment. Every post you publish is a long-term asset that helps build brand awareness and promote your expertise, products, and services."
Blogs contribute to your overall campaign strategy through:
1) Individual performance 2) Usefulness in leading users to gated content 3) Leads produced from filling out forms to gated content 4) Search engine optimization (SEO) value
Let's break these down.
1) Individual performance
Blog posts just keep on giving. Here's what we mean by that:
A) SEO vs. PPC: The Showdown: Originally created in April 2015, this blog has generated over 15,000 views, with over 6,700 of those views coming in this year so far.
B) Understand the Domain Name System: Originally created in February 2015, this blog has generated over 25,400 views, with over 7,000 of those views coming in this year so far.
This just goes to show that if you produce a well-written and relevant blog, it's just going to keep producing fruit.
2) Usefulness in leading users to gated content
Blogs are essentially the life blood of marketing campaigns. They serve as additional content pointing to your offers by either aligning with the topic or exploring elements of your content offers more in-depth (which is exactly what this blog is doing, so you get to see it in action).
This blog is designed to be a more in-depth part of a series of blogs pointing to this valuable content offer that explains "how and why companies should utilize blogging as part of their marketing strategy":
See what we did there?
3) Leads produced from filling out forms to gated content
Blog posts are key to getting more conversions for your company, as they should lead to gated content. When a user decides they want that content and fill out a form to get their hands on it, they transition in the sales process from user to lead. Then how your company handles the nurturing of that lead is up to you!
4) SEO value
Marketing experts across the board agree that one of the key components to increasing search engine rankings is to have a plethora of indexed pages pertaining to your products and services.
The trick is to talk about your services in a creative way that interests potential buyers without creating duplicate content. Blogs are the gateway to doing just that. You have the ability to answer FAQs, cover related topics, or elaborate on your products and services in a way you just can't on a basic web page.
The best part about it? Google LOVES valuable content and rewards you for it!
So, is your ROI where you want it to be?
Use this handy graphic as a visual reminder every time you blog and ask yourself:
Is it well-written and relevant?
Does it align with gated content we've created?
Does it point to that gated content?
Is it search engine optimized?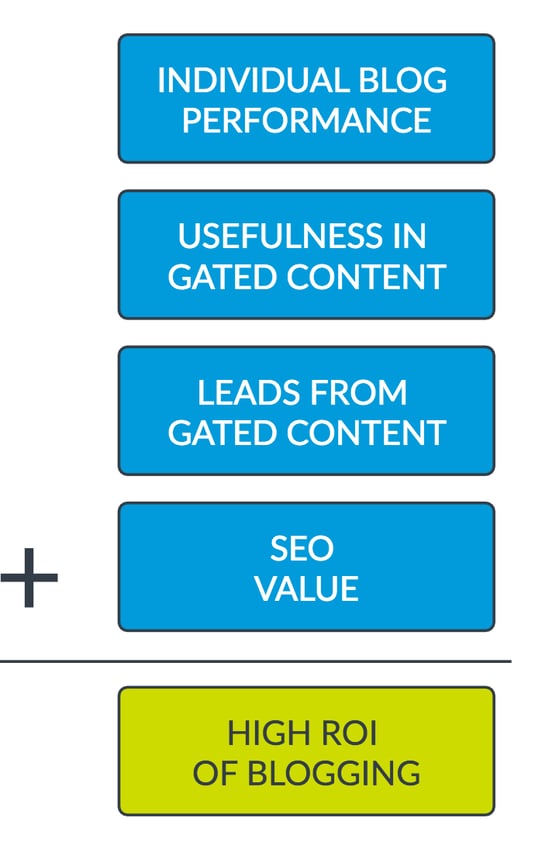 Please Leave a Comment: