Getting Your Business Started With Social Media
Posted by Sarah Wai on Feb 22, 2021 2:05:30 PM

Are you feeling a little behind the times because your business hasn't figured out how to set up and use social media correctly? You're not alone. In fact, many businesses didn't see the value in social media until the Pandemic hit and it suddenly became their business' lifeline. Now, many are still struggling to figure it out and may not have the budget to hire professionals because, well- it's the Pandemic. While social media definitely requires a lot of work if you're going to see a great return from it, there are certain things that are essential to your success that are non-negotiable (like Facebook's Community Standards and Advertising Policies) and others that you can do yourself (like social posting, social profile optimization, setting up an ad account, and utilizing social media insights)!
Where to Start with Social Media
First and foremost, it's important to understand your why behind setting up and using social media. For many, it could be as simple as "to generate leads" or "to raise awareness." These are valid reasons and are great motivators. When you find your why, it's easier to strategize and pick tactics to make it happen. Once you figure this out, it can help guide your future goals and benchmarks.
Set Up Your Social Profiles and Optimize Them
No matter the social platform you choose, the most important thing in your initial setup is to ensure you are setting up a business profile. A personal profile with a business name doesn't help you. A business profile will have all the capabilities you want and need. Once you have your social profiles set up, you're going to need to do what's called "profile optimization" (aka making sure you have all important information included to increase your chances of being found via social search and search engines).
To optimize your business profile, you need to make sure you have:
Updated contact information
A concise company description
Accurate location information
Updated hours of operation
Updated products and/or services
Updated hashtags (in your Instagram profile, featured hashtags on LinkedIn, etc)
Social Media Posting Basics
Every social media platform is different and requires slightly different image dimensions, may have varying capabilities, etc., but they all usually have certain similar capabilities that you want to take advantage of where possible. When it comes to posting on social media, you want to ask yourself the following questions before you post:
Is there a link pointing to your website or an offer? This is perhaps the most important question because a post without a link is simply drawing awareness, not necessarily getting you more immediate leads or sales.
Is the image optimized? Does the image size align with that social platform's standard ratio? Does the image add to the post or does it distract from the message?
Have you used industry- and location-appropriate hashtags? Add the location hashtags for your target locations, industry-appropriate hashtags, and any hashtags that are relevant to your post, and minimal generic hashtags (like #love, #ootd, etc). Keep in mind, though, that not all social platforms have the same standards for hashtags. I recommend minimal-to-no hashtags for Facebook, 3-5 hashtags for LinkedIn, and a reasonable amount for Twitter, Pinterest, and Instagram.

Are you posting when people are online? If you want to get more technical and see when your followers are online, platforms like Facebook and Instagram provide these insights. But typically, if your intent is to build followers, and increase awareness and engagement, you want to post when the majority of social media users are online. See more details on this below.


Does it abide by the community standards and policies? Social media community standards and policies provide an outline of what they do not allow. These are important to follow to prevent your account from being locked or blocked for misuse. The advertising policies, in particular, will provide you with everything you need to know when it comes to creating ads. Facebook and Instagram are the most strict of all social platforms, so we're linking directly to their guidelines and policies so you can become well acquainted with them.
Here's a shareable graphic to make these questions easier to remember: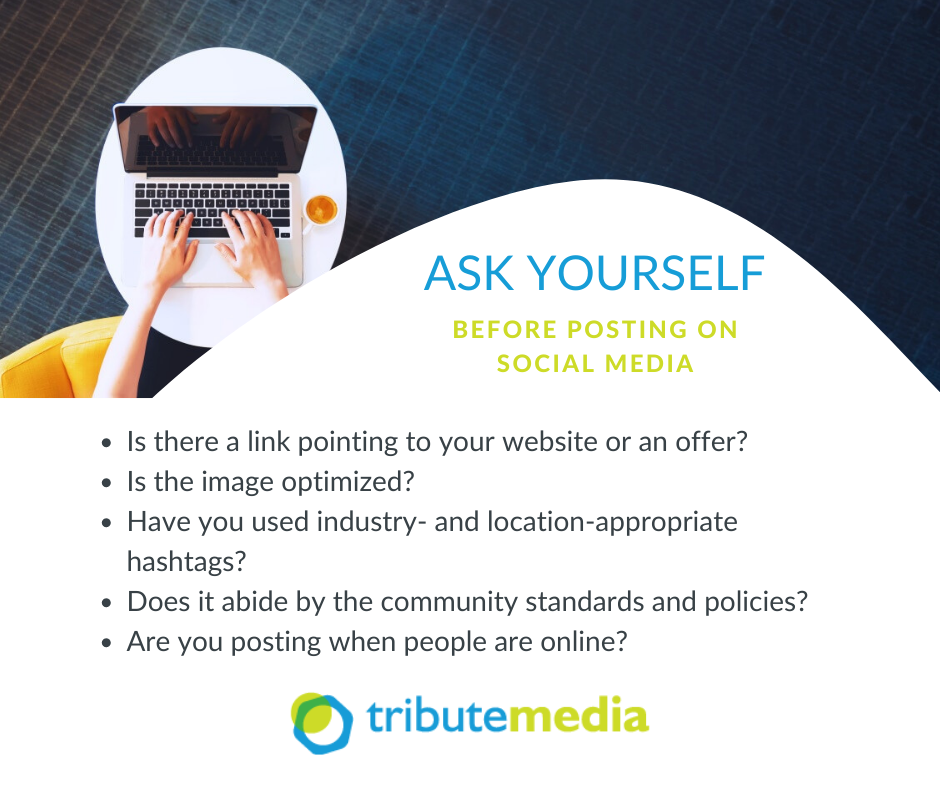 How to Post When People Are Online
We covered this information in our recent Social Media Snapshot, but we're reiterating the info here because it's important. Here are the most recent findings on the best times to post to social media, as well as ideal posting frequencies for each of the popular social media platforms for businesses.
Facebook
Best times to post: 1 pm - 4 pm and 6 pm - 10 pm
Best days to post: Tuesday, Thursday, Friday, Saturday, and Sunday
Best time to post B2B content: Thursday and Friday, 1 pm - 4 pm
Best time to post B2C content: Weekends, 1 pm - 4 pm
Ideal posting frequency: Twice a day
Instagram
Best times to post: 11 am - 1 pm and 7 pm - 9 pm
Best days to post: Monday, Wednesday, Thursday
Worst times to post: Weekends (especially Sundays)
Ideal posting frequency: Once or twice a day
Twitter
Best times to post: 8 am - 1 pm and 5 pm - 6 pm
Best days to post: Monday through Friday
Worst times to post: Evenings and weekends
Ideal posting frequency: Three times a day
LinkedIn
Best times to post: 8 am - 10 am and 5 pm - 6 pm
Best days to post: Tuesday, Wednesday, Thursday
Worst times to post: Evenings and weekends (this doesn't apply if your target audience is job searchers)
Ideal posting frequency: Once a day
Pinterest
Best times to post: 12 pm - 2 pm and 7 pm - 10 pm
Best days to post: Saturday and Sunday
Worst times to post: Working days before 5 pm
Ideal posting frequency: Five times a day
Google My Business
Best times to post: 9 am - 11 am and 7 pm - 9 pm
Best days to post: Monday, Tuesday, Thursday, Friday
Ideal posting frequency: Once a week
Ongoing Social Media Strategy and Implementation
When someone says social media strategy, you may cringe at first- but it doesn't need to be complicated. Most social media strategy is complex and carried out by well-trained and seasoned professionals, but there are some basics that you can do to jumpstart your efforts.
Check out your competitors and learn from what they are doing on social media. Granted, some are going to be doing better than others, but if it seems like they're doing something right… learn from it.
Take advantage of your social media insights and the data they provide. If the data tells you that certain topics or types of content are more popular than others, learn from those insights and start producing more of what social media users want to see from you.
Keep things as fresh as possible, but don't be afraid to recycle content. If you had a post that worked well three months ago and it's still relevant today, post it again. Chances are high that it will do well again.
Ready to go deeper? Check out our social media marketing resource page for more helpful information!
Former Content, Email, and Social Media Marketing Specialist of Tribute Media. Bachelor of Science in Digital Communication Arts and Master in Business Administration.