Your Guide to Advertising on Social Media
Posted by Taylor Munson on Mar 6, 2023 7:45:00 AM

The social media landscape is more competitive than ever. The secret is out, and businesses are jumping at the opportunity to reach large audiences on social media.
One of the best ways businesses use social media to reach new audiences? Social media advertising.
Unlike traditional advertising media, such as billboards and radio, social media provides a unique opportunity to deliver targeted messaging to specific audiences.
In this guide, I'll delve into the best practices to follow when advertising on social media, what to consider when budgeting for social media ads, and the top platforms you should invest in.
best practices for social media advertising
While every social media advertising platform is different, there are some things you should keep in mind to ensure your investment pays off. Here are seven best practices to follow when advertising on social media:
Define your business goals. Before anything, you have to know the "why" behind your social media ads. Are you wanting to spread awareness, increase traffic to your website, grow your following, or generate new business? Knowing your goals will determine the direction of your advertising strategy.
Define your target audience. After determining the "why" for your social media ads, it's time to move to the "who." Social advertising gives you the opportunity to target specific demographics, interests, and industries, so knowing your ideal customer is important. When it comes to targeting, it's always best to start broad, then use the data to refine and optimize.
Create SMART goals. Establish specific, measurable, attainable, relevant, and time-bound goals for your social media ads. For example, maybe you want to increase landing page views by 50% for a specific page in three months. Or maybe you want to grow your Facebook Page audience by 10% in two months.
Monitor your ads regularly, but don't make too many changes. Publishing your ads and forgetting about them won't get you results. Check in on your ads at least once every couple of weeks (ideally once per week) to see if you need to make adjustments. At the same time, you don't want to make too many changes in a short amount of time because this will make it harder for your ads to learn. When you do make adjustments to your ads, make sure you're relying on data to inform your changes.
Optimize for the platform. The way people consume content is different for each social media platform. Ensure your creative and messaging are optimized for the specific platform you're advertising on. For example, if you're running a TikTok ad, your ad creative should include vertical video.
Personalize your messaging. You want your ads to resonate with the specific audience you're targeting. Your ads should talk to your target audience like you know them. Also, consider where your audience is in the

buyer's journey

.

Utilize conversion tracking.

If you're planning to advertise on social media consistently, it's best to

install the right conversion tracking tools to track activity after someone engages with your ad. This is especially important as

privacy changes

are making it harder to target. For example, if you're advertising on Meta platforms, install the Meta Pixel and Conversions API for the most accurate tracking between your ads and your website, app, or other offline sources.
How much should I spend on social media advertising?
A common question we're asked is, "how much should I spend on social media advertising?" There's no straightforward answer here, as so much depends on your business, goals, and audience.
For example, do you want to increase brand awareness, or are you looking to get qualified leads? Each goal has a different outcome and therefore requires a different budget. The more valuable the outcome, the more money you should invest.
If you're just getting started with social advertising, it's best to start small and scale from there based on results. Even just a few dollars a day can start to make an impact.
Many advertising platforms also have daily spending minimums. For example, you need to spend at least $10 per day on LinkedIn ads. Keep those minimum budgets in mind when planning your ad spend.
While your ad budget is important, it's not the only factor that determines the success of your ads. A majority of social advertising platforms use an auction system, meaning your ads compete with other ads in an auction. Each time there's an opportunity to show someone an ad, an auction takes place.
The ads you compete with will depend on your target audience, budget, and ad quality. By setting a daily or lifetime budget for a campaign, you're indicating how much you're willing to pay for specific actions (impressions, clicks, conversions, etc.)
🌟 Pro Tip: When you start building out your ad campaign, most platforms will show you estimated results based on the type of ad, budget, audience targeting, market conditions, and past ad performance. Test different settings to see how it impacts the predicted results.
What social media platforms should I advertise on?
Choosing the right platform to invest in can be hard because each network has its own benefits. To help you determine the best platforms for your business, take a peek at our blog on the top ten platforms for business.
Ultimately, you should pick the social media platform your target audience is most active on. Below I explore how you can use some of the top social media advertising platforms, including Meta, LinkedIn, TikTok, Pinterest, and Twitter.
meta advertising
The company Meta owns multiple social apps, including Facebook, Instagram, Messenger, WhatsApp, and Quest. This means when advertising with Meta, you have access to many different promotional avenues.
There are a ton of ad objectives, formats, and placements you can try depending on your goals. It's best to start with one objective, such as brand awareness, and then expand from there based on results.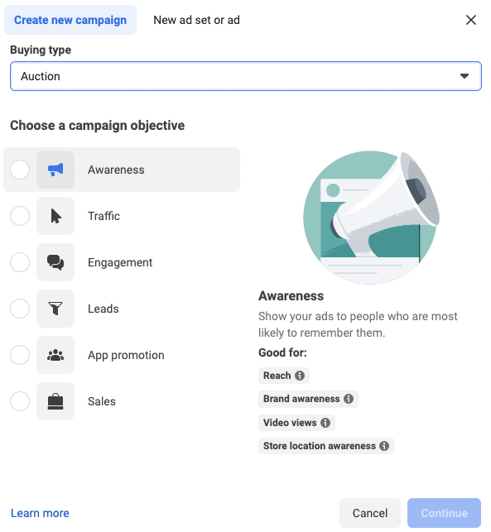 Example of ad formats available when setting up your Meta ads
Here's a breakdown of the best ways to use each Meta platform for advertising:
Facebook Ads
More than 2 billion people are active on Facebook, making it a great platform for any business wanting to reach a wider audience. Both B2C and B2B businesses have found success through Facebook advertising, so this is a platform we recommend for any business.
Facebook ads can be very versatile, so there are many directions to take your Facebook ad strategy. You can keep it simple by running an image ad promoting your business or get creative by telling a story through a carousel or video ad.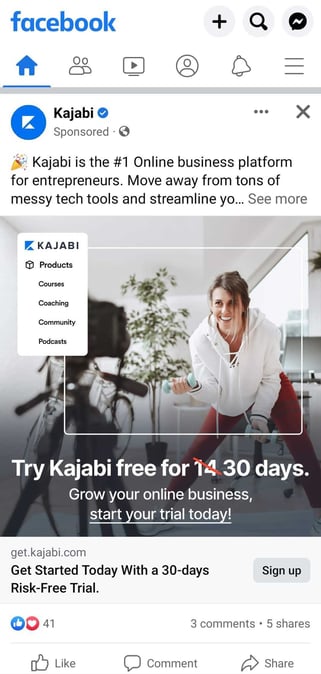 Facebook Feed Ad from Kajabi
There are billions of opportunities to show ads on Facebook daily, so look for ways to make your ads stand out, such as incorporating fun colors, photos of your team and customers, or videos of your products.
Instagram Ads
Since Meta owns Facebook and Instagram, you're able to run ads on both platforms at the same time. The best way to do this is to choose "dynamic placements" when setting up your ads to allow Meta to deliver ads to the best placements. For example, if Meta notices the Instagram Story placement is getting the most engagement, it'll focus your budget on that placement over others.
🌟 Pro Tip: Optimize your ad creative by designing different sizes for each placement.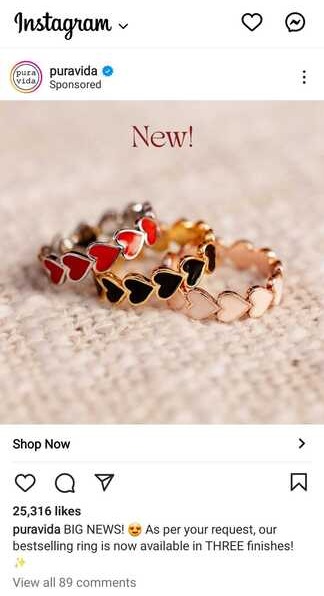 Instagram Feed Ad from Pura Vida
You can also run ads solely on Instagram either through the Meta Ads Manager or directly through the Instagram app. Instagram ads are great for any business, especially B2C, or brands with a visual story to tell. The visuals of your ad are especially important on Instagram, so make sure you have attention-grabbing ad creative.
Messenger Ads
Another advertising option Meta provides is Messenger ads. These ads will show up in Facebook's Messenger app, where people commonly message other friends, family, and businesses. You can also run a "click to messenger" ad that opens up a chat with your business once someone clicks on your ad.
Messenger Ad from a fictional business on Facebook
Facebook Messenger ads provide a more personal way of connecting with your target audience. Instead of pushing people to a website or app, you can begin conversations, answer frequently asked questions, and start building trust with potential customers.
WhatsApp Ads
If your business uses WhatsApp to communicate with customers, you can also run "click to WhatsApp" ads. Similar to Messenger ads, these ads will include a call-to-action button that starts a thread with your business on WhatsApp when clicked.
The best uses for WhatsApp ads include lead generation, product purchases, and helping users along the buyer's journey. You could also use WhatsApp ads to connect with your current customers, such as offering a special discount or collecting feedback.
Audience Network
Meta's Audience Network is another advertising option that involves running ads on third-party mobile apps. This provides an opportunity to reach a wider audience outside the Facebook and Instagram apps, so it doesn't hurt to include this as a placement for your ads. However, we wouldn't recommend running ads exclusively on the Audience Network unless you have a specific reason.
Shopping Ads
If your business has a physical product, we recommend trying out Shopping ads. Many B2C brands have found success with these newer Meta ads. After uploading your products to Facebook and/or Instagram, you can create ad campaigns that target shoppers with the products they're most likely to buy.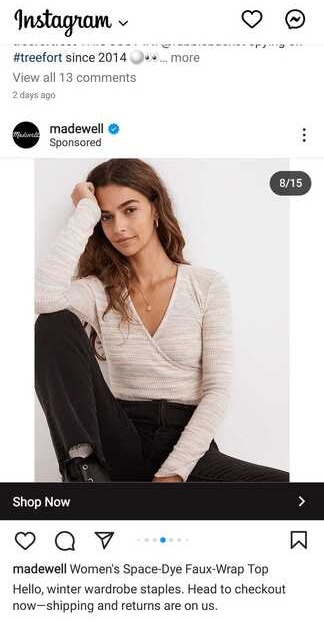 Instagram Shopping Ad from Madewell
Meta also recently launched Advantage+ Shopping Campaigns that provide a simplified way of promoting your products. All you need to do is choose your dates and budget and upload creative assets.
If you're struggling to get results with any of your Meta ads, here are some questions to ask:
Is your target audience too small? Expand your audience demographics, locations, or interests to allow more people to see your ads.
Are you testing different types of ad creative? There are multiple placement options, so test out new creative ideas such as videos or varying sizes.

Is your budget too small for your goals?

Meta needs at least 50 conversion events per week in order to optimize, so if your ad isn't producing those results, you should adjust your advertising objective.
Meta also released the Performance 5 Framework to help businesses improve their ad results.
🌟 Pro Tip: Use the Meta Ads Library as a resource to get a better feel for the advertising landscape. This is especially a great place to see if your competitors are advertising on Meta and what types of ads they're running.
LinkedIn Advertising
Advertising on LinkedIn can be more expensive than Meta, but for good reason. LinkedIn ads are becoming more popular as businesses are seeing the value of this powerful platform.
What makes LinkedIn a better option for some businesses is its targeting capabilities. Many people feel more compelled to keep their LinkedIn profile up to date for recruiters and other professionals in their network. Thanks to this robust data, businesses can better refine their targeting to include people with specific job titles, industries, skills, interests, and more.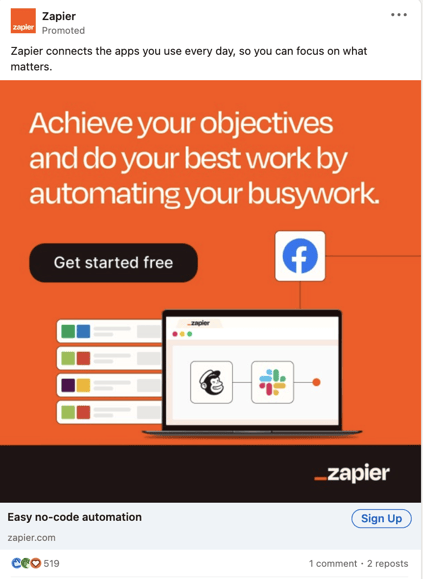 LinkedIn Feed Ad from Zapier
Through LinkedIn advertising, your business can increase brand awareness, drive website traffic, generate qualified leads, and recruit top talent. LinkedIn is an especially effective marketing tool for B2B organizations.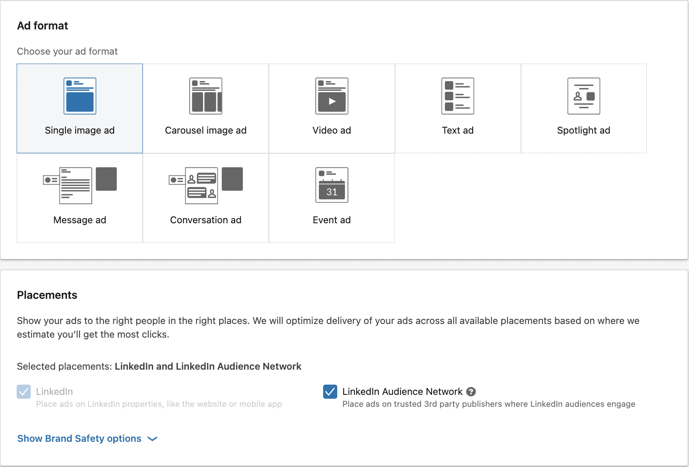 Example of ad formats available when setting up your LinkedIn ads
Like Facebook, there are a variety of placement options, including images, carousels, videos, documents, events, conversation ads, and spotlight ads. LinkedIn can place your ads on the LinkedIn website and mobile app, as well as the LinkedIn Audience Network. The Audience Network places ads on trusted 3rd party publishers where LinkedIn audiences engage.
TikTok Advertising
While TikTok is still a newer platform, there's no denying the impact it's had on the social media landscape. As the app continues to grow in popularity, so is its advertising platform.
There are more than 1 billion users on TikTok, making it a strong option for social media advertising. This platform is particularly fitting for B2C brands that want to reach a younger audience. If you have a visual product that appeals to a young demographic, TikTok ads are worth exploring as an alternative to Instagram or YouTube advertising.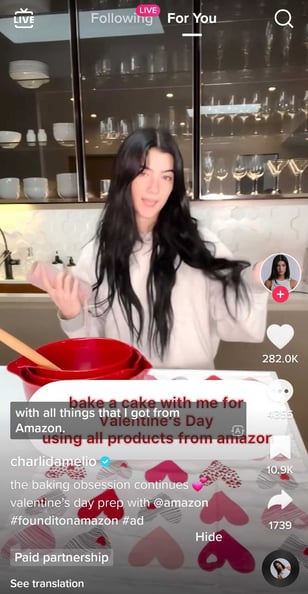 Amazon partners with influencer Charlie D'Amelio for a TikTok Ad
Many businesses have found success with TikTok advertising by partnering with influencers. It's important for your ads on this platform to fit in with the rest of the organic content, so take some time to familiarize yourself with the type of content that performs well on TikTok. TikTok has even said, "don't make ads, make TikToks."
Pinterest Advertising
Pinterest is a platform people like to use for inspiration and lifestyle ideas. This visual-driven search engine helps people imagine their dream home, find DIY projects, plan the perfect outfit, and so much more.
While other demographics continue to flock to this platform, females between 18 and 54 are the largest group using Pinterest. If you're a B2C organization whose target audience fits that demographic, Pinterest advertising is worth pursuing.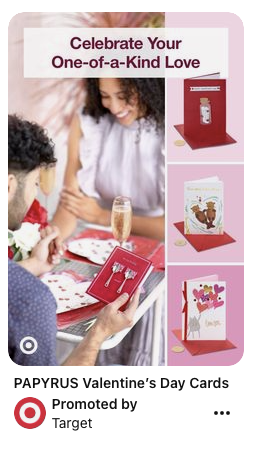 Pinterest ad for Valentine's Day from Target
Many of the people using Pinterest are already in a shopping mindset as they looking for new ideas and products that support their vision. That's why Pinterest has made it easy for businesses to upload their product catalog so people can make purchases directly through the platform.
Twitter Advertising
Twitter is a fast-paced social media platform that's undergone many changes over the years. Real-time news, entertainment, and politics thrive on Twitter, and it's best to consider where your business fits in on this platform before jumping on advertising.
There are a variety of ad formats available on Twitter, including text, image, video, moment, Twitter live, and carousel ads. Similar to other advertising platforms, Twitter has different ad objectives based on where your audience is in the buyer's journey, including ads for reach, website traffic, followers, video views, app installs, and more. They've also recently released a conversion ad objective and are testing a keyword targeting option.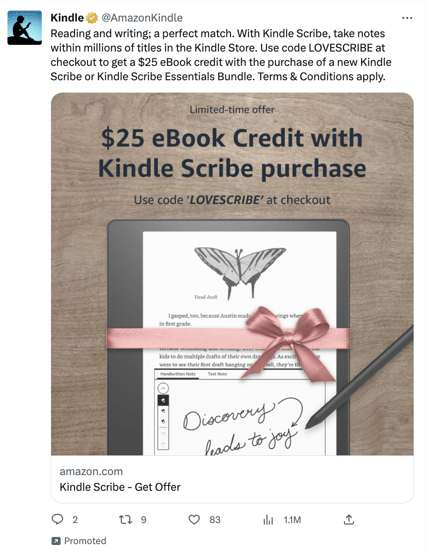 Twitter Feed Ad from Kindle
Are you looking for an expert to help your business grow through social media advertising? You're in the right place. Contact us today to learn more about our social media marketing services!
Taylor is Tribute Media's social media specialist. When she's not hanging out in nature or socialing the medias, you might find her indulging reality shows or re-watching Parks and Recreation.
Please Leave a Comment: