Search or Display Ads: Which Paid Advertising Should You Use?
Posted by Nikki Wardle on Feb 18, 2019 8:48:00 AM

Of course, the answer is "it depends." You'll need to evaluate your goals, budget, timeline, and a few other factors to ultimately decide. Think of it as trying to choose what type of car to buy. You have to take into consideration what kind of commuting you will be doing, how many people will be riding in your car, and of course, your budget. You certainly wouldn't buy a Toyota Prius if you're going to be driving on snow-covered, unpaved roads during winter hunting trips, or if you have more than three kids you need to drive around. The better bet would be to look at crossovers and SUVs.
As you take into consideration what your advertising needs, before making a decision, let's quickly review what each paid advertising method allows you to do.

Display Advertising
Display advertising is best defined as using predetermined image ads and dynamically created image ads to appear on third-party websites, apps, and videos with the purpose of building brand awareness or remarketing to past customers. Display ads appear as banners, sidebar ads, or even ads included within the text of an article.
Search Advertising
Search advertising, most commonly referred to as pay-per-click, is best defined as text ads that appear in the first, second, and sometimes the third section of a search engine result for products or services that relate to your search topic. They are easiest to identify by the "Ad" text next to the URL (see below). Organic search results will obviously not have any such text next to the URL.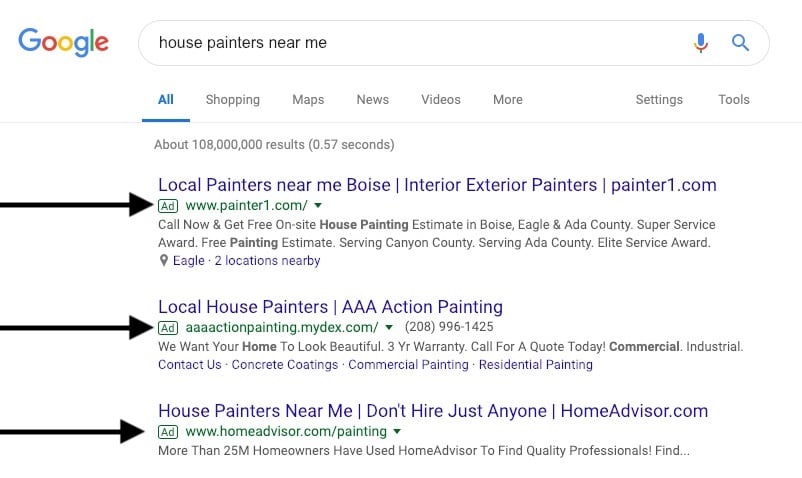 Search Advertising with Display Select (Google Ads)
This type of advertising is exactly what it sounds like; it's the best of both worlds. Your paid ads can be served up from search results and on relevant websites that are in the display network.
When to Use Display Advertising
For Brand Awareness Campaigns
It doesn't matter if you're a new company starting out, or if you have been around for over 100 years (think Coca Cola); it's so important to get in front of and stay in front of people that may not know you even exist or people who have done business with you for years. Keeping your company, service, or product top-of-mind for consumers is one of the best ways to keep them coming back again and again.
For Remarketing Efforts
Also called "retargeting," remarketing is a great way to re-engage with customers who haven't purchased from you in a while, or for potential customers who've visited your site, maybe even went as far as to put a few products in their online shopping cart, but abandoned the cart halfway through the purchasing process. Using display ads to show new products, or maybe the same products they put in their cart but didn't buy, is a great way to keep your company top-of-mind for when the customer or potential new customer is ready to buy.

When to Use Search Advertising
To Convert Qualified Leads
When people search for a product or service, more often than not, they are at the middle to end of their buyer's journey. This is especially true for B2C businesses where the purchase of a product or service is easily within the searchers budget. Targeting people when they are ready to purchase will generally be a significantly smaller audience, but the return-on-investment could be immediate.
For Limited Ad Budget
When running a search-only paid campaign, the only time you will get charged is if a user clicks on your ad (hence the name pay-per-click) as opposed to display advertising, which charges per 1000 impressions of your ad (an impression is your ad being displayed on a users screen). Running a well-optimized search campaign will only target users who are most likely ready to purchase.
When to Use Search with Display Select
The short answer here is "almost always." Like we said before, this type of paid ad campaign combines the best of both worlds. You can target people that are ready to make a purchase, while also keeping your company in front of potential customers who may have not heard of you yet.
The Verdict
Base your decision on your campaign goals, with the timeline you're looking at, and of course, how much budget you have to spend in that time frame.
If you're still unsure of which sort of campaign to run, it's probably best to start with a search with display select campaign. The best part about paid digital campaigns is that you can test, make changes, and then test again. It's a great way to run paid ads if you don't have a lot of experience or time to manage the campaign.
Nikki has a degree in Marketing from Boise State University and worked as an Inbound Marketing Specialist at Tribute Media from 2014 to 2019. She's a Google Whiz and dog lover, now serving as a marketing director for a local veterinary clinic.
Please Leave a Comment: