The Power of Google Shopping Ads
Posted by Nikki Wardle on Jan 10, 2019 10:14:00 AM

Google Shopping debuted as Froogle, in 2002, as a product price comparison site that used the Google search algorithm and indexing to differentiate itself from other sites that offered the same service. In 2007, Froogle became Google Product Search and then it changed names again in 2012 to finally became Google Shopping. Today, it is one of the favored features Google has to offer users, as it generates 85% of all clicks on Google Ads.
Why Use Google Shopping Ads
While the internet allows consumers to shop from the comfort of a couch with a glass of wine, it also takes away the ability to try on, or even feel a product before purchasing. That's why using shopping ads has been such a successful form of digital advertising for retailers. It's not enough anymore to tell people your product is the highest performing walking shoe for women and it comes in five color combinations, you have to show them. People have to rely on the image of the product.
To give you a glimpse of what other retailers are doing in the industry, the following chart displays Google Shopping vs Text ads paid search clicks. What this shows us is that, no matter your industry, you're always going to see greater results if you are running Google Shopping ads.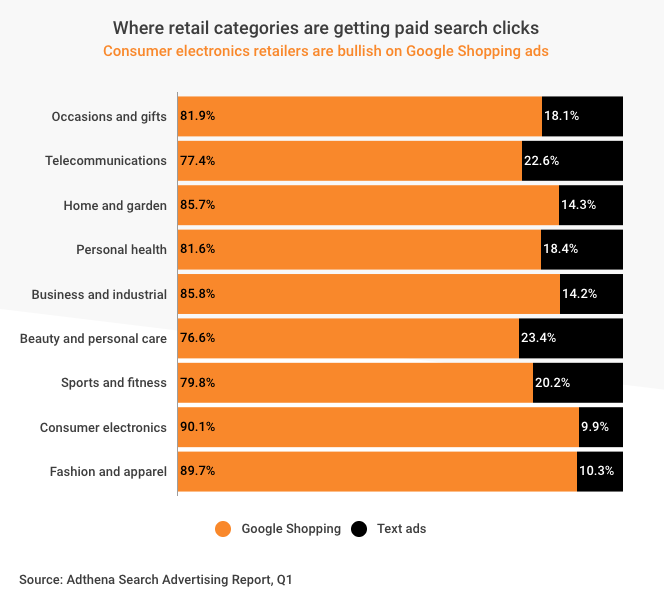 It's important to remember that Shopping Ads are best for products that are under $150. Generally anything more than that, consumers are going to do more research, visit your site and your competitor site to research quality, reviews, warranties, or return policies.
Benefits of Using Shopping Ads
Increased Traffic
When shopping on the internet, it is more likely that a person will click on an ad that shows them a product image, as opposed to a text ad. Google even states that "In some cases, advertisers have experienced double or triple their expected click-through rates."

Higher Qualified Leads
As stated above, giving a new or returning customer the chance to see exactly what they are looking for before they even get to your website is powerful. If you see a person coming onto your site from a shopping ad, you know that person has already compared your product to competing products, even if it was for just a few seconds. They have also seen the price, color, and design.

Greater Presence
A great feature about Shopping Ads is that more than one of your products can be served up in a shopping ads result. Since Shopping Ads don't rely on keywords and are not split up like search ads are, you're not limited to just one ad being displayed. That's great if you have a large assortment of products.

Simplified Campaign Management
By integrating Google's Merchant Center with Google Ads, it's simple to create product groups for the merchandise you want to offer online. Google uses the product attributes from your Merchant Center to determine when your product is relevant to display in a search result. No messing with keywords and whether to use broad match, phrase match, or exact match.
Nikki has a degree in Marketing from Boise State University and worked as an Inbound Marketing Specialist at Tribute Media from 2014 to 2019. She's a Google Whiz and dog lover, now serving as a marketing director for a local veterinary clinic.