Tips for Optimizing Your Google My Business Page
Posted by Lindsey Bowshier on Aug 10, 2021 12:33:16 PM

If you are a local business—usually meaning a brick and mortar shop or service provider with a physical location—you can benefit from claiming and updating your Google My Business Page. Google My Business profiles are almost like a second website—a second opportunity to show up in Google's search results, yet too many businesses leave this opportunity on the table.
What is a Google My Business Search Result?
When you do a search on Google, there are a few types of results that you'll see:
Search Ads - These are the top search results that say "Ad" next to them.
Organic Search Results - These are the rest of the results below the ads and on subsequent results pages.
Map Results - When you search for anything "near me" or include a geographic descriptor in your search, you'll often get a map with pins a list of the corresponding businesses
Knowledge Panel Results - If you are searching for something that isn't a business, like a public figure, movie, brand, etc.
Google My Business, which is its own kind of knowledge panel which we'll spend the rest of this article discussing.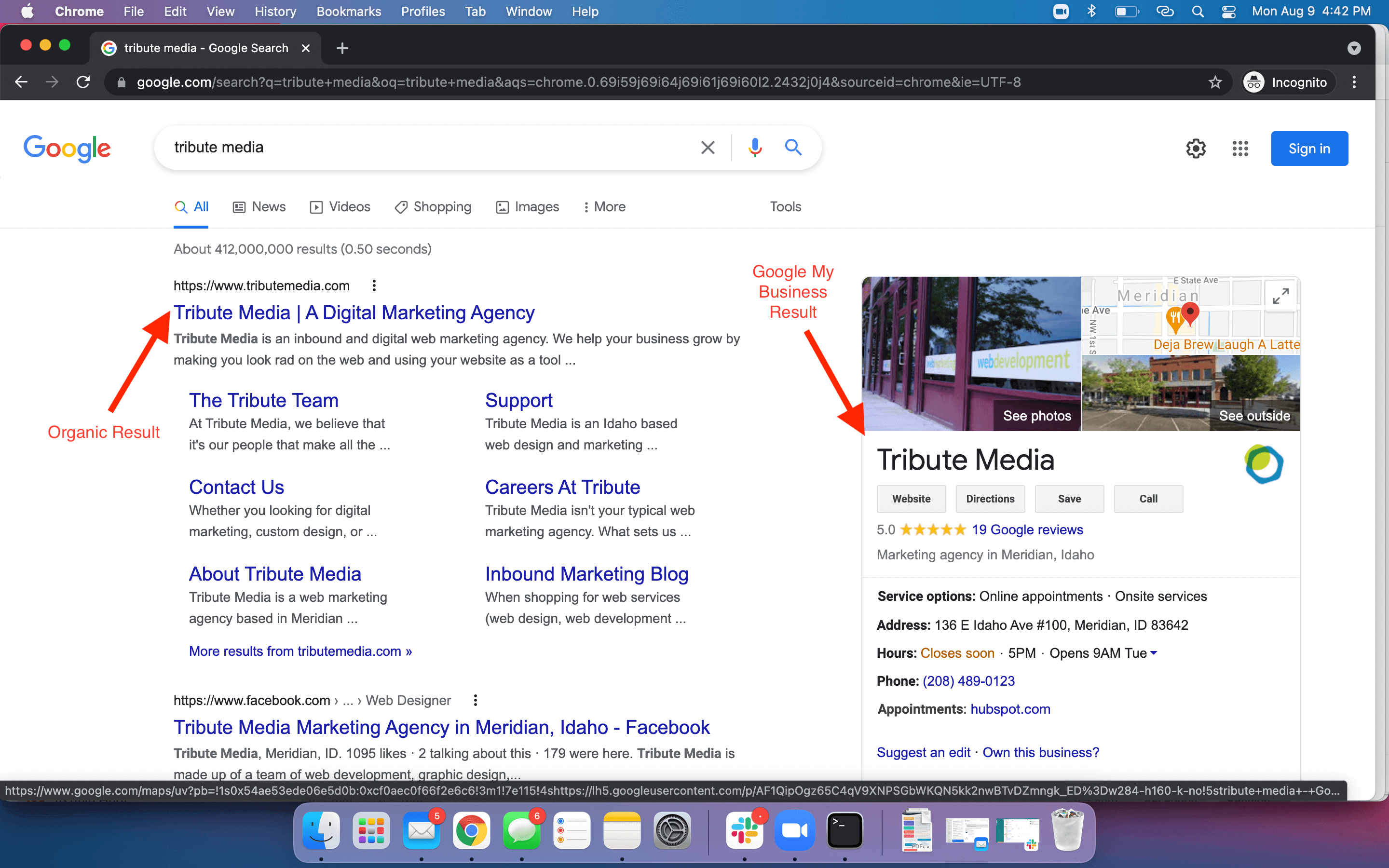 Claiming Your Google My Business Profile
If you haven't already claimed your business, there are a few steps to do so.
First, you have to have a Google email address. If you manage your professional email through Outlook or another non-Google email client, and you don't otherwise have a gmail address, you can set up a free one. Just keep it simple like yourbusinessname@gmail.com.
You can start by doing a Google search for your business name. If you've been around awhile, chances are, Google is already aggregating some data about your business and something will show up in that right side of the SERP (search engine results page). Near the top it will say "Own this Business" and that's where you can start the process of claiming the profile. If nothing showed up for your business, simply go to business.google.com and click "Add Your Business to Google"
This will prompt Google to send a postcard to your business with the code you will need to authenticate your Google My Business account. Here is a video with step-by-step instructions provided by Google.
What Information Should You Provide in Your Google My Business Profile?
In short, everything you can. This is your opportunity to feed Google all the information you want it to know about your business.
Business Info
There will be a place to put in your hours, location, service areas, phone number, website, even an appointment link if you have an online scheduler or calendar app such as Calendly.
Additionally, you can provide a short bio about your business and select multiple business categories (from an extensive, but finite list of options). For example, Tribute Media has selected the categories of:
Marketing Agency
Website Designer
Web Hosting Company
Marketing Consultant
Internet Marketing Service
This is your first opportunity to let Google know you're no one-trick pony, but it gets better.
Products and Services
In these sections, you really get to go nuts. From the categories listed above, Tribute Media has another 50+ related services. This is where we are able to get specific under a category like "Marketing Agency" and include service listings like Social Media Management, Social Media Advertising, Social Media Strategy, Social Media Design, don't worry, I won't go on. Basically what you are suggesting to Google is that if anyone is searching for any of these services, maybe they can present your business as an option. This is what we're talking about when we say it's another opportunity to show up in search results. Yes, tributemedia.com as a website ranks decently for many of those terms, but there could be a scenario where maybe we're getting beat out in the organic search results by a bigger company, but show up first on the map, particularly if someone is searching those terms nearby. If you are retailer, rather than a service provider, you could do something similar in the products section--even including prices.
Photos
You're not just limited to the standard Google Earth image that Google will put on your profile as a default. Add your logo and other brand assets, images of the interior and exterior of your business, as well as pictures of your team and doing what you do best: serving your customers.
Reviews
This is probably the most overlooked as an opportunity to optimize your Google My Business profile. Even for businesses that know it's important to ask for reviews and are doing so consistently, you could be missing out on an opportunity. Just because a review is positive, doesn't mean it's good. Good reviews are specific and talk about what you did well and why and what pain you solved for. Even if you can't get every person to compose thoughtful, specific five-star reviews, you can help things along by how you reply to your reviews. If you get a review that says something general like "We really loved working with this company!" you can still add context by replying and saying something specific about the work you did, such as: "Thanks! We also really enjoyed working on your website project. We look forward to continuing the relationship by helping you generate leads to your site with inbound marketing strategies!"
Hours
It's best practice to update your business hours regularly to ensure your open and close hours are accurate. This is especially important if you have a special event or holiday hours. Accurate hours lets your customers know when you are available to help them when they call or walk up to your business.
Posting to Google My Business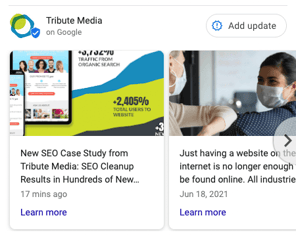 Once you've optimized your profile, you should continue adding content and context to your profile with posts. In this way, Google My Business functions almost like a social media platform. You can post links to content like blog posts, sales or special offers, events, and more.
For your time sensitive posts like sales and offers, you can add an expiration date at which point Google will stop displaying it. It's also important to remember that only your two most recent posts are going to be visible on most screens so be thoughtful about what you post when. If you have a sale for only a day or two, try not to post less compelling content like a run-of-the mill business update that can wait until after your sale has passed.
Optimizing Google My Business FOR SEO
The takeaway from this is that optimizing your Google My Business profiles should be a part of your larger search engine optimization strategy. We all know why it's important to optimize your website property if you want to get traffic to your website. Google My Business is another important extension of your web presence. It's a repository of metadata on your business and it needs the same kind of attention when it comes to keywords, content creation (in the form of posts), and user experience—in this case, meaning it helps searchers easily access contact information and locate your business.
Lindsey is the President of Tribute Media. Her degree is in English and Communication with an emphasis in Journalism, her background is in copywriting and content marketing, and she's had pretty much every job at Tribute Media since she joined the agency in 2014. Outside of work, Lindsey participates in a "super-cool-not-at-all-nerdy" writing group. Her favorite writer is Dorothy Parker.
Please Leave a Comment: