5 Tips for Using HubSpot's Email Marketing Tools
Posted by Taylor Munson on Jan 25, 2022 8:00:00 AM

Why Email Marketing?
Despite its past success, did you know only 64% of small businesses use email marketing to reach their customers? There are a lot of ways email marketing can fit into your business and HubSpot is a great tool to help facilitate those efforts. Whether you're a nonprofit looking to connect with donors, a technology company looking to nurture leads, or a small business simply wanting to have better conversations with customers, email marketing is your friend.
💡 Did you know 99% of email users check their inbox every day, with some checking 20 times a day?
Why Email Marketing?
One of the best parts of email marketing is its cost effectiveness. Email marketing is known as one of the leading marketing channels for return on investment (ROI), driving an average of $36 for every dollar spent.
If you're just getting started and are currently looking for an email marketing platform, HubSpot offers free email marketing capabilities within their free CRM software that includes up to 2,000 free email sends per month.
Here are guiding principles to keep in mind as you plan, execute, and analyze your new email marketing strategy:
Have conversations and build relationships. Successful email marketing is about creating conversations. Personalization is a big part of capturing attention and making these personal connections.
Be human and helpful. The more your emails look like an obvious mass email blasted to a purchased list, the less people will want to engage with you and likely, the more unsubscribes you'll receive.
Provide valuable content. In order to build trust with your audience, you have to provide value. And while the term value may be subjective, it can easily be determined based on how they've engaged with your content or product offerings in the past.
5 Best Practices for EMail Marketing with HubSpot
Although the email marketing platform we're focusing on here is HubSpot, these best practices can be applied to your email marketing no matter what tool you're using!
1. Maintain a Healthy Audience List
If your email marketing strategy involves an email blast to one big list of contacts, you're probably not seeing the results you'd like. The first step to successful email marketing within HubSpot is spending some time creating your email audience list(s) with intention.
The majority of your email lists should be built to include contacts who have specifically opted in to receive emails from you, such as newsletters, flash sales, or general notifications.
Understanding Email Audience Segmentation
The days of email blasting to one list are over. In order to create conversations and build relationships with your leads and customers through email, you have to provide relevant content to the people who care about it.
💡 According to Campaign Monitor, marketers who use segmented campaigns note as much as a 760% increase in revenue.
Here are 4 common types of active lists for email audience segmentation:
Buyer Persona Lists. If you've created specific buyer personas for your business, you should be using them in your email strategy. Divide up your lists based on the buyer personas they most line up with and tailor your email content based on what will resonate most with that buyer persona.
Lifecycle Lists. Another great way to divide up your lists is by lifecycle. Segment your content to lists based on where they are in their buyer's journey. Ideally, someone in the awareness stage should be receiving different content than someone in the decision stage.
Location Lists. Does your business serve multiple locations? Consider segmenting your lists based on location.
Behavior Lists. You can also target your contacts based on specific behaviors. For example, maybe someone takes a desired action on your website and you want to send a few follow up emails.
Understanding & CREATING Active Lists in HubSpot
Within HubSpot, there are two types of lists you can create.
Active Lists
Active lists automatically update based on changes to contact or company records based on the criteria for that list. For example, if you create an active list to track all newsletter subscribers, that list will continue to grow as new contacts opt-in. Another example of an active list would be a list of current customers.
Static Lists
Static lists are exactly as they sound, they're static. Which means they don't automatically update as new contacts fit the criteria it's based on. An example of a static list would be a list of contacts that you'll only use for one specific email and probably never again. You don't care if this list updates over time because you only needed it for one purpose. Another example would be a static list that represents a contact import you did on a specific date for a specific one-time need.
As you monitor the health of your email lists over time, consider having negative lists that track:
Unsubscribed contacts
Hard bounces
Contacts who haven't engaged with your email in a while
Contacts to delete
These types of lists will help you have a better pulse on your email lists over time. It's especially important to monitor unengaged contacts and remove them where appropriate. This ensures everyone you're sending to wants to receive your emails!
Your subscribers should also have the ability to unsubscribe and edit their preferences for email communications from you. Be sure you're aware of the CAN-SPAM Act, which sets rules businesses must follow for commercial email. While you could be asking yourself why you'd want to allow customers to unsubscribe, not doing so could seriously affect your ability to get into your customers inboxes in the future.
Learn more about email domain authority and how your emails are actually reaching your audience.
2. Get Personal with Personalization Tokens
Your emails should be similar to having a conversation. The best way to do this is through personalization tokens. You've collected specific information about your contacts either through forms or 1-on-1 conversations, so why not use personalization tokens to make your content appear tailored to speak to that contact specifically?
HubSpot makes it easy to include personalization tokens into your subject line, email preview text, or the body of your email.
Here are some easy ways to get you started using personalization in your emails:
Incorporate the "First Name" or "Company Name" into your subject line or the body of your email.
Add unique sales information you've collected in their contact record based on where they're at in the buyer's journey. For example, you can include personalization tokens such as the last time they had a conversation with your sales team, their most recent product purchased, or the goals they outlined for needing a product like yours.
Use the "contact owner" or "company owner" property to incorporate their sales or marketing point-of-contact at your company in the email signature
The more information you have on your contacts, the more information you can use. That's why you should take advantage of any opportunity to collect more information on the people you're emailing.
Learn more about progressive fields in HubSpot forms to capture new information from an existing contact.
3. Use Automation to Continue the Conversation
Once you've put some of these best practices to use and want to explore more of what email can offer, consider automation. HubSpot makes it simple to implement automation by creating email workflows. These workflows can be used for a lot of different purposes, such as lead nurturing or helping people move along the buyer's journey based on how they're engaging with the sales and marketing emails you're sending. Automation also helps you regulate how many emails you're sending, ensuring you're not over emailing people.
4. Don't be Afraid to to A/B Test
A/B testing should be an important part of your email strategy. With A/B testing, you're able to send out two different versions of your email to small groups and see which performs better. This gives you the chance to better understand your audiences and determine which email generated the best results based on your goals. Once your audience starts to engage with your email, HubSpot will determine the better performing version and will send that version to the rest of the contacts selected to receive that email.
Here's a screenshot of an A/B test we started creating in HubSpot.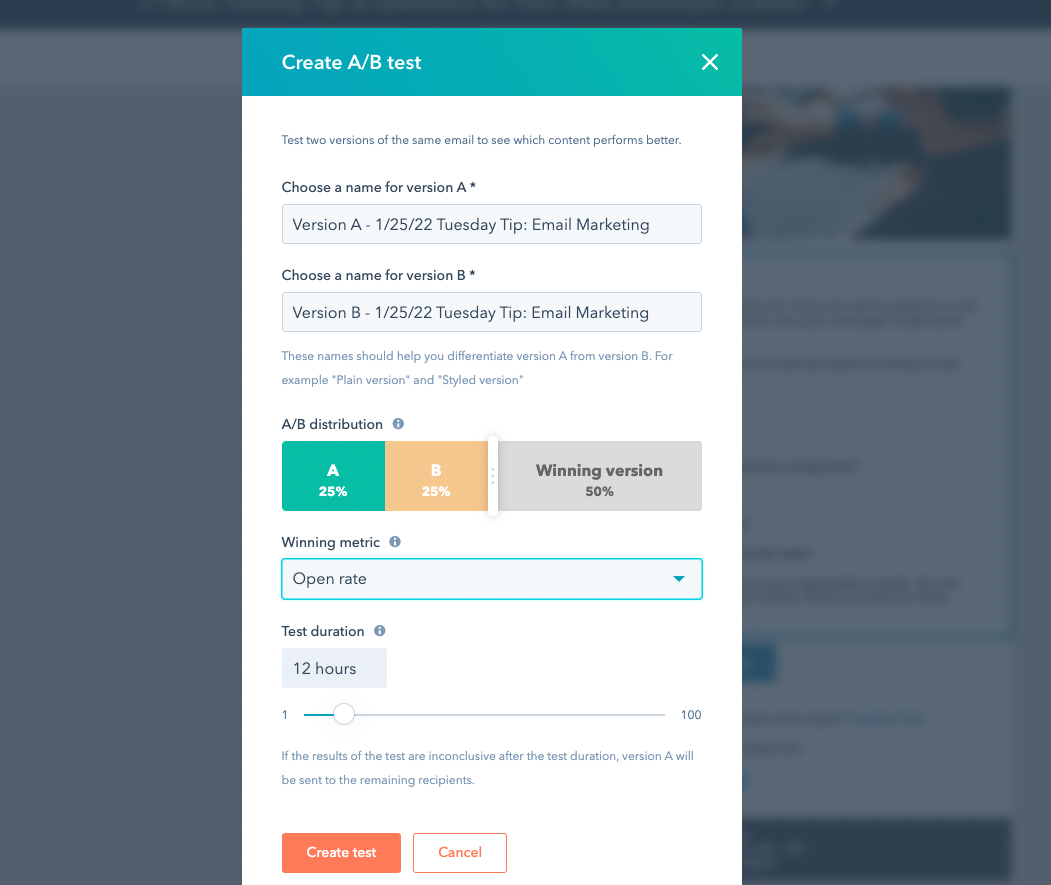 When you get started with A/B testing, you should focus on just one element at a time. A great place to start is with your subject line. Subject line A/B testing can help you improve your open rates as you learn more about the types of subject lines that get people to open your emails. When it comes to subject lines, don't be afraid to try new things such as adding emojis or punctuation. Remember to add value and be honest and direct about what your email is offering.
You can also test other elements of your email, such as the design. Maybe you want to test the call-to-action wording to see what generates the most action. In general, the design of your emails should capture attention, generate interest, and drive action. Here's more on designing high-performing emails in HubSpot.
💡 According to Litmus, brands that incorporate A/B testing in their marketing emails generate an ROI of 48:1.
5. Analyze the Results
As with any marketing effort, email marketing should not have a one and done approach. Your strategy will continue to evolve over time based on your learnings, analytics, and current trends. Analyzing the results of your emails will help you identify areas of improvement.
Here are a few metrics to track and focus on improving as you analyze your email results:
Email deliverability (number of emails that reached inboxes)
Open rate (percentage of people who opened your email)
Click through rate (percentage of people who clicked on something in your email)
Unsubscribes (how many people are unsubscribing from your emails)
Bounce rate (percentage of emails sent that couldn't be delivered)
HubSpot's platform makes it easy to track these metrics and more. Here's an example of open rate and click through rate email results from Tribute Media's HubSpot.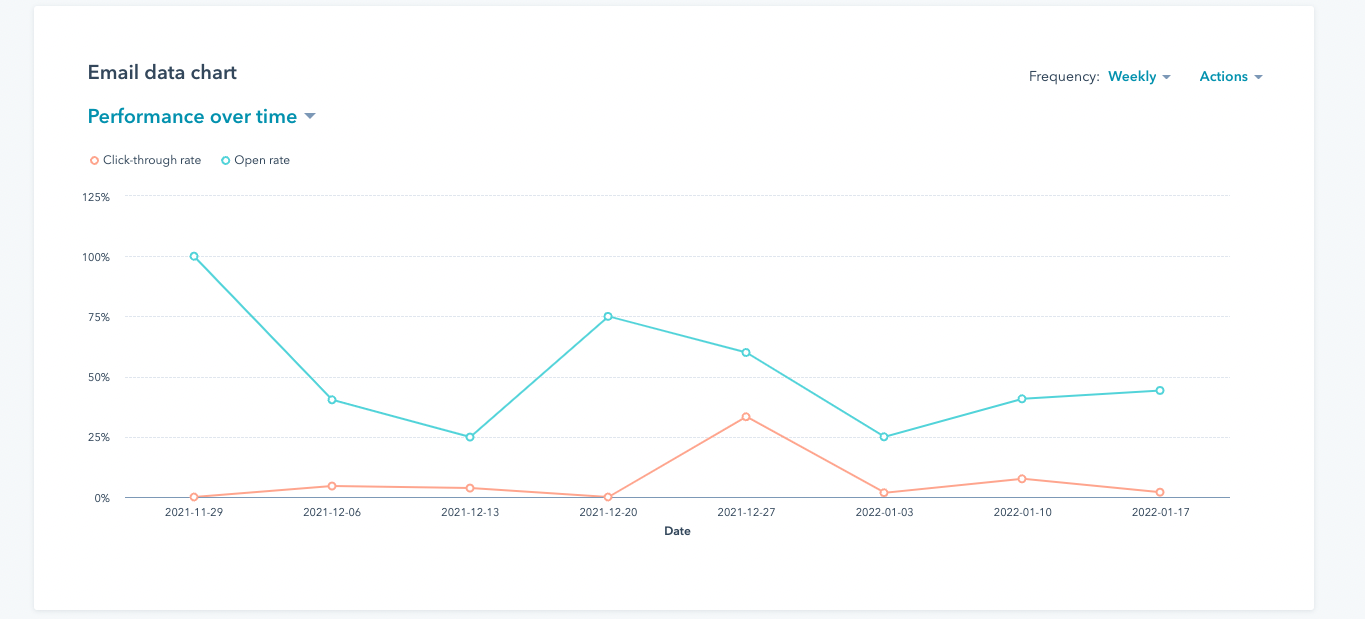 In conclusion…
In the world of "snackable" content and short attention spans, email marketing continues to be one of the most effective ways for businesses to build relationships with their customers.
Taylor is Tribute Media's social media specialist. When she's not hanging out in nature or socialing the medias, you might find her indulging reality shows or re-watching Parks and Recreation.
Please Leave a Comment: