How to Attract New Patients to Your Healthcare Organization with Buyer Personas
Posted by Sarah Wai on May 12, 2021 2:58:00 PM

Do you know the kind of new patients you want to attract to your healthcare organization? We're not just talking about "people who need a primary care provider" or "people who need our medical product or service." We're talking about digging deeper and attracting the ideal patients for your in-house providers who will stay with your organization for years to come.
Reaching the right leads at the right time is essential to the success of your healthcare organization. To effectively use your marketing budget to reach your ideal patients, you should develop buyer personas- or in your case, patient personas. Successful healthcare organizations and medical practices have started seeing a large return on investment by utilizing this idea of buyer personas. Buyer personas typically address four critical targeting questions:
Who are our most enjoyable (and long-standing) patients?
How did they find us?
What symptoms or needs did they have when they came in?
Why were we the right choice for this patient based on those needs?
As you evaluate these questions, you're already piecing together your ideal patient. The ones you enjoy having come in, who are loyal to your healthcare organization, and advocates for others becoming your patients.
Knowing who these people are will go a long way in creating successful inbound marketing campaigns and attracting ideal patients.
The Benefits of Patient PERSONAS Marketing
Patient personas allow your organization to develop marketing campaigns that produce better results while saving your company money AND valuable time that could otherwise be spent on delighting existing patients.
Since patient personas are based on real data and knowledge, they can also help:
Boost conversions across various platforms by optimizing the style and tone of your content to match
Create a content strategy that attracts, converts, and delights leads
Improve your content, website navigation, and user experience
Track results and continue to build on your patient persona efforts
Once you can identify your key patient personas, you can create influential content that enables you to develop a customer-centric inbound marketing strategy. Again, this costs you less in the long run, as you are creating content that is you can use to attract new patients for years to come.
A great example of this is an OBGYN clinic client of Tribute Media. Our two teams sat down together in late 2019 to create 3 ideal patient personas. After identifying who these women were, their demographics, and challenges - our team realized the client's website design at the time was likely actually driving these demographics away. With these ideal patient personas now available, both teams had the information we needed to develop a website redesign and a dialed-in content strategy that put this client's patient personas at the center of their marketing.
Their organic traffic skyrocketed from 1900 total monthly users to their website to over 11,000 monthly users (in just organic search traffic) in a little over a year, with a bounce rate of less than 1%.*
*Note from copy editor: I assumed this was a typo because a bounce rates typically range from 30%-60%. So I went to the reports, and it checks out!: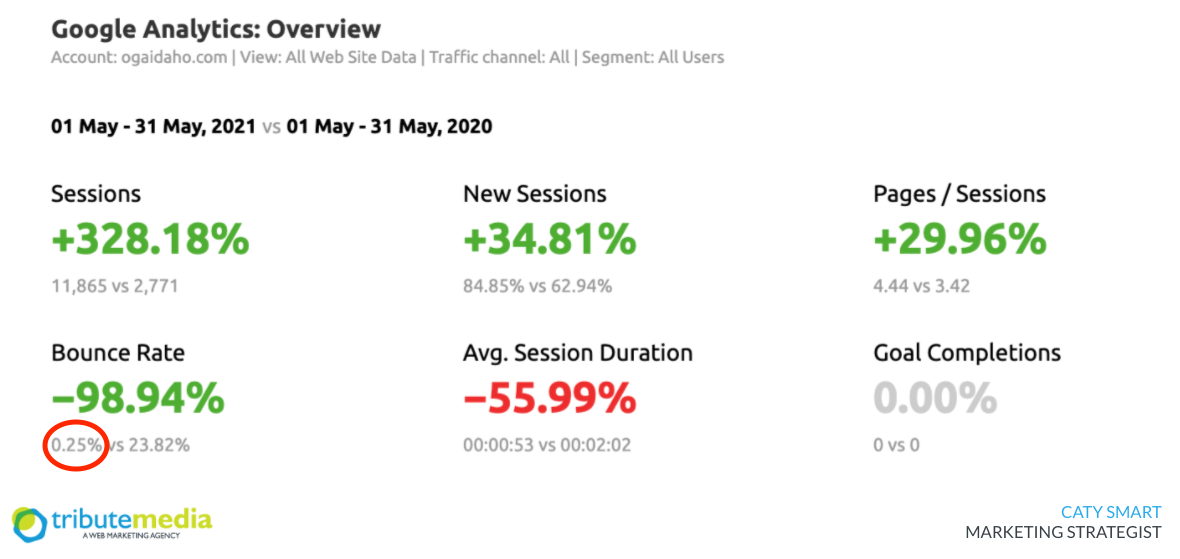 So, how do you create a patient persona?
HOW TO CREATE Patient Personas for Your Healthcare Organization
Many healthcare leaders are surprised to find that you can get a great start on your patient personas through a 2-3 hour brainstorming session with key team members and the use of our buyer persona worksheets. These workshops provide a safe, strategic thinking environment for key stakeholders to become aligned when determining your target market and the future of your marketing efforts.
Some of the questions you may want to consider when building your patient personas:
Age range
Symptoms or reasons they may be looking for your services
Where they may search for health-related information (Google, Yelp!, Social, etc.)
Their attitude toward health, lifestyle, and health-related products
Challenges that may keep them from scheduling an appointment
Income level
Occupation
Communication preferences
The goal is to establish a picture of your ideal patient based on real data and think of brand champions you have already, not to create a company unicorn based on whom you THINK is the right fit for your organization based on what you thought when you were first starting out.
After your buyer persona worksheet activity is complete, your marketing team can then utilize these personas in future content offers, blogs, social media campaigns, and more. Campaigns are always more effective when your patient personas are at the forefront by speaking to their challenges, sharing the benefits of your services to address those challenges, and sharing that messaging on the communication channel they're most likely to find it.
Is your company in need of an expert to help get your buyer persona project off the ground? Contact Tribute Media to discuss scheduling a buyer persona workshop and, more importantly, how we can help set your organization up for marketing success!
Content, Email, and Social Media Marketing Specialist of Tribute Media. Bachelor of Science in Digital Communication Arts and Master in Business Administration. Holds HubSpot Certifications in Inbound Marketing, Social Media Marketing, Email Marketing, and Contextual Marketing.
Please Leave a Comment: