Hire the Pros - Get the Results
Posted by Nikki Wardle on Aug 22, 2018 5:26:12 PM

(
When Google AdWords first launched in 2000 (they have since rebranded and are now known as Google Ads), the interface was simple and it didn't take much to start a campaign.
Oh, how times have changed.
In the almost 2 decades since the inception of Google Ads, Google has added multiple campaign types, keyword match types, and bidding strategies, and so much more to the mix that it can make your head spin. Now there are hundreds of possible combinations in which to build a campaign.
Search-only campaign with broad keyword matches and manual cost-per-click bidding
Search with display select with phrase-match keywords and cost-per-conversion bidding
Search with display select with a mix of phrase, broad- and exact-match keywords and cost-per-conversion bidding on an accelerated delivery method
You get the idea.
So how do you know what the right campaign settings are for your paid campaigns to get the biggest bang for your buck? The simple answer is to hire an agency who will use their many years of expertise, and their relationship with Google, to help you get the best ROI (Return On Investment).
Even the Experts Don't Hit Home Runs On the First Swing
One of my favorite quotes is "Don't settle for good when you can have great." I don't know who said it first to give the proper credit, but it's a great mantra for both your personal and professional life. Let me explain what I mean by that.
I am currently running a campaign for a non-profit called Sleep in Heavenly Peace. They are an amazing organization doing amazing things for children all over the United States! But, just like all non-profit organizations, they needed to get the word out for what they did, why they do it, how to donate, and even to recruit new volunteers. SHP (Sleep in Heavenly Peace) was able to take advantage of Google's Ad Grant program to kickstart traffic to their website and initially saw some fairly good results.
However, like any good agency, we had to test whether different strategies within the campaign would get better results other than the Google recommended bidding strategy of cost-per-conversion (CPC). If your are not familiar with CPC, it is the bidding strategy in which you tell Google to only show ads to users who they think are most likely to convert (fill out a form, buy a thing, download a PDF, etc.) on your site.
Sidenote: if you decide to run your own campaigns, great! BUT, when you are testing different strategies on your campaigns, only change ONE or TWO things are a time! If you change more, you'll have a hard time pinning down what changes are causing better or worse results.

Since starting the campaigns in July of 2017, we have been constantly testing new keywords (both search keywords and negative keywords) in different match settings to see what brings in the most relevant traffic. Over the course of the first nine months, we saw the click-through-rate go from 3.94% click-through-rate to 6.43%. Not too shabby.
Strategy Change
Then we tested changing the bidding strategy. Originally, we opted to go with the recommended cost-per-conversion since our goal was to get contact information to get donations and volunteers. But maybe first, second, or third time visitors are not ready to give the information yet. Committing to a non-profit takes careful research and due diligence. So we decided to change the bid strategy to cost-per-click to get in front of more people, more times.
It worked.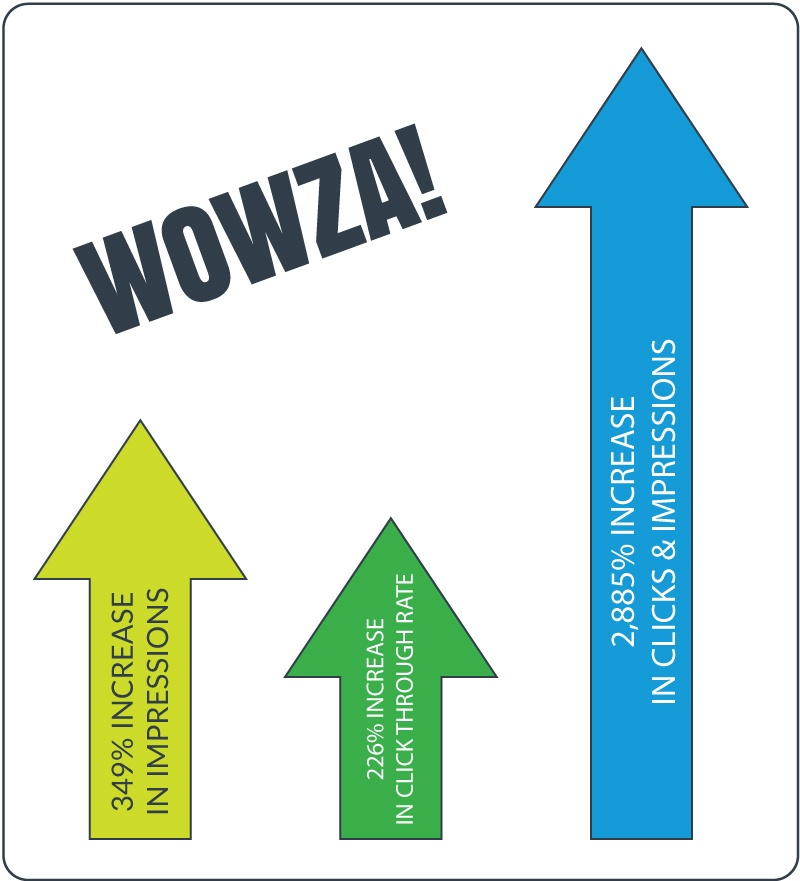 During the first 30 days of making the change to all three campaigns (Request a bed, Volunteer, and Donations), we saw a 349% increase in impressions and a 226% increase in internet users clicking through to the website! The biggest gain was in our Volunteer campaign. Impressions and clicks increased by 2,885%! All from just changing the bidding strategy.
Test, Test, then Test Again
Admittedly, upticks in campaign performance like what SHP experienced are rare. The point of this story is to demonstrate that managing, and constantly testing different strategies in a pay-per-click campaign should never stop. Internet users are always changing, search engine algorithms are always changing, so you need to change with them.
Nikki has a degree in Marketing from Boise State University and worked as an Inbound Marketing Specialist at Tribute Media from 2014 to 2019. She's a Google Whiz and dog lover, now serving as a marketing director for a local veterinary clinic.
Please Leave a Comment: