5 Ways to Improve Your Customer Experience Using HubSpot
Posted by Caty Smart on Feb 21, 2022 10:18:50 AM

#1: Build a Customer Portal Using HubSpot CMS
Has your customer success team been looking for ways to improve the customer experience at your company? Between HubSpot's free CRM (Customer Relationship Management tool) and its sales, marketing, and service platforms, it could be the tool you've been looking for to take your customer experience to the next level.
Tribute Media has made HubSpot the single source of truth for our team regarding company information, product usage, and other critical information to serve our customers better through a long history of sales and marketing efforts.
Over the last two years, we've put a larger focus on building out systems and functionality within HubSpot to better support (and automate) our client delight efforts—an area that's vital to any company's success.
As we began to find new areas of opportunity to improve our customer experience, we found new ways to utilize HubSpot to automate those processes, making our onboarding, training, and customer delight efforts a consistent experience for everyone and an effort we could analyze and scale over time.
If your team needs a few ideas to take your customer experience up a notch using HubSpot, we're here to help.
#1: Create Workflows That Set You & Your Customers Up for Success
Automated workflows allow your company to create a repeatable and automated process for your leads or customers at any stage of the flywheel. Want to nurture your leads that downloaded an ebook? There's a workflow for that. Need to assign contact owners based on information input on a form? There's a workflow for that too.
💡Tip: See This as an Opportunity to Realign Your Customer Success Goals
While you may already have an onboarding process, it may not be accomplishing everything it could be in order to support both your customer AND your company. Start with an introductory email that gets your new customer excited about your product. Then send a series of educational emails over time that helps the customer get the most out of your product while also allowing your team to be proactive by addressing areas of possible friction down the road.
For example, at Tribute Media, each client has a primary point of contact that handles the strategy and day-to-day communications between the client and our team. We also have a support page on our website that includes live chat, a support form, and a knowledge base that allows our clients to connect with our development team directly or self-serve. Over time, our account managers found that support requests were staying in our inbox for far longer than expected, and due to the nature of our roles, it was taking us 24-36 hours to get a support ticket into our development team's hands to fix.
Our team saw an opportunity to train our clients earlier in the customer journey by including a "Meet Your Support Team" email seven days into the onboarding workflow. The email provides information about our team, our processes, and wait times for support requests depending on how users submitted their requests.
We saw an opportunity to best serve our customers through transparency and training, resulting in faster support response times and happier customers.
#2: Utilize HubSpot Landing Pages to Build Out a Customer Portal
While HubSpot offers different HubSpot CMS options to fit your budget and your hosting needs, you can build a unique customer experience using any of the CMS packages available by utilizing HubSpot's drag-and-drop tools, personalization tokens, and more.
💡Tip: Start with the Basics
Start by asking yourself, "If I were to build a one-stop-shop for my customer's needs, what would I need to include?".
At Tribute Media, we built a customer portal using personalization tokens that outline the client's unique goals when they hired our team, links to their company's strategy documents, meeting links to schedule time with their account manager, links to website support, billing information, and more.
Not only did we create it to provide a tailored, behind-the-scenes experience for our customers, but we also used it as an opportunity to provide education through our marketing resources section for those customers who wanted to learn more about web marketing. We've spent 15 years creating blog content, white papers, and ebooks—why not put our best pieces of content front and center so our customers can learn from it?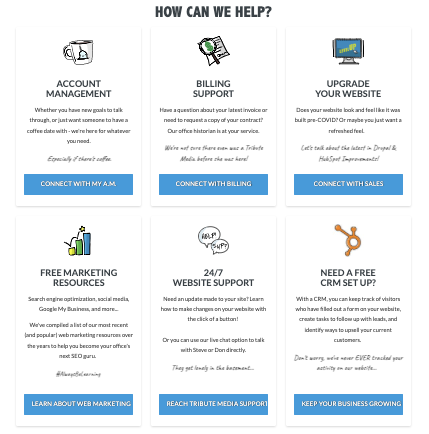 #3: Use HubSpot Forms to Capture Your Customer's Preferences and Product Feedback
While HubSpot offers NPS survey functionality within their Service tools, you can utilize HubSpot forms within the marketing platform to survey your customers and capture important information. The earlier you start to capture what's most important to each customer, the sooner you can start to customize their experience with your company and remove friction down the road.
The best part? Your customers' survey responses will be saved to their contact or company record for your team to revisit as needed or as new staff members come on board, which helps eliminate the need to "re-onboard" your customer if a new customer success rep steps in.
4 Ideas for B2B Customer Survey Questions During Onboarding:
"What days and times do you prefer meetings?"

"What's your preferred method of communication?"

"What would you like to learn more about in regard to our products or services?"

"What does our team need to understand about your company and processes that may not have been discussed thus far?"
No use case within your company for an onboarding survey? Set up a survey for product or service feedback around the 45- or 90-day mark. This will help you capture important information that will help you determine if you're at risk of losing that customer or what your product or service has helped the customer overcome thus far.
You can send this to a customer manually by creating a HubSpot task 45 days after they become a customer or by creating an automated workflow triggered by a change in lifecycle stage.
4 Ideas for 90-Day Survey Questions for Product or Service Feedback:
"Are we helping you meet your goals?"

"How often do you engage in product education or our on-demand workshops?"

"What have you appreciated most about your experience with our team?"

"How can we improve our product or customer service in the future?"
It's important to remember that surveys aren't beneficial for anyone unless your team is willing to act on the information you collect. Use the information to tailor each customer's experience moving forward in a way that turns them into brand advocates for years to come.
#4: Take Advantage of Email Marketing & Segmented Lists
HubSpot's email marketing tools can be a sales, marketing, or customer service team's best friend. Not only can you personalize your content to make your emails sound tailor-made for that user, but you can include video content, implement A/B testing, and more.
Outside of the email content itself, you can view the analytics of each email, including which contacts engaged with your email the most, what percentage of your audience clicked on the CTA or links, who marked it as SPAM, etc.
💡Tip: Before creating an email, ask yourself, "Who benefits most from this information?"
While email marketing is often viewed as an option for communicating with anyone and everyone who's ever engaged with your brand, it should be treated much more delicately and with intention. As you start to collect information on your customers and include it in their CRM record, you can start to create lists based on what services or products they use within your company, what product pages they've viewed most on your website, how engaged they are with your marketing emails, and other filters that allow you send the right emails to the right people.
This may result in your marketing team creating 2-3 different versions of your monthly newsletter, but it'll be worth it when your email engagement goes up, as well as your chances of increasing upsell opportunities for your sales team.
#5: Set Up Live Chat to Support Your Customers Using HubSpot's Conversation Tools
When leads or customers are trying to find solutions, they'll often go straight to the source (aka your website). They'll look for a troubleshooting page, an FAQ page, or a contact page to try to find the ideal way to connect with your company for support. Why not add a way for them to get answers to their problems faster through a chatbot? They're already on your website; why not meet them there?
Customers want support faster, with as little effort needed from them as possible, and often without the need to pick up the phone.
Companies still resist the idea due to the belief that someone from their team must be on their website all day. With HubSpot's ChatBot tool (which is free by the way!), you can update your customer service team's settings to opt for email, desktop, or Slack notifications when someone has started a conversation on your website, allowing you and your team to continue to go about your day as usual until a live chat has been initiated.
💡Tip: You can update your preferences to only show live chat is available during business hours, allowing you to have more control over when a customer should expect someone from your team to respond.
3 Bonus Tips for Using HubSpot to Improve Your Customer Experience
Use live chatbots on your customer portal pages to allow for 1-to-1 conversations.

Apply progressive form fields to your forms. If they've already answered the original question, they'll see a new question in its place so you can collect more information.

Create customer experience workflows based on survey responses and other collected data.
Need help getting started with HubSpot tools? Get in touch!
As client strategist and account manager for Tribute Media clients, Caty manages client relationships. She has a strong background in creating marketing strategies, auditing websites, email marketing, social media, and building web content focused on turning leads into customers.
Please Leave a Comment: