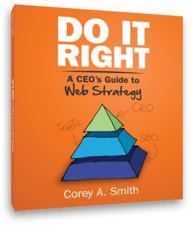 It looks like you are located outside of the United States. Unfortunately, we can only ship this free book within the U.S. If you ARE planning to have the book shipped to the U.S., proceed with filling out the form on this page. Otherwise, here are some other ways you can get your hands on the book:
Click here to order the "Do it Right" on Amazon.
Click here to get the Kindle version of "Do it Right" from Amazon.
Do It Right: A CEO's Guide to Web Strategy will provide you with:
A foundational approach to web marketing
Practical tools for building your web presence
Useful tips and amusing stories from the founder of the best web marketing agency in all the land
Reasons why you should be social on social media
A BS

meter for common web marketing practices and tactics
Yes, this is a real, physical, need-a-bookmark, 126-page book. No Kindle, iPad or PDF reader required. Selfless trees sacrificed themselves so that you may rule the internet with you strategic web savviness.