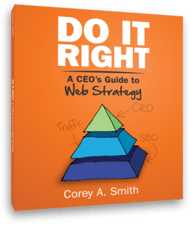 We wrote the book on web strategy and now we want to bestow all of our genius unto you.
You're welcome.
Do It Right: A CEO's Guide to Web Strategy will provide you with:
A foundational approach to web marketing
Practical tools for building your web presence
Useful tips and amusing stories from the founder of the best web marketing agency in all the land
Reasons why you should be social on social media
A BS meter for common web marketing practices and tactics
Yes, this is a real, physical, need-a-bookmark, 126-page book. No Kindle, iPad or PDF reader required. Selfless trees sacrificed themselves so that you may rule the internet with you strategic web savviness.
We are so excited to share this book that we are giving it away for free!*
Fill out your info and we'll go old-school and mail you a book via a parcel carrier of our choosing.
*Sorry, but can only honor this offer for the free book with free shipping within the continental U.S.